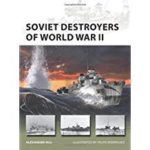 Osprey's Soviet Destroyers of World War II (New Vanguard #256)
by Alexander Hill; illustrated by Felipe Rodriguez
Reviewed by Jeff Schultz
Alexander Hill's Soviet Destroyers of World War II fills an important gap in the neglected story of the tragedy and triumph of Soviet naval operations in World War II. Hill's background in Soviet military history on the faculty at the University of Calgary comes through ably in the 48 pages of concise text which covers the gamut of destroyer-related topics. Hill's use of obscure Soviet sources is one of the key elements that elevates the book and gives it particular value for historians and enthusiasts alike.
The book profiles the following destroyer classes: Novik, Uragan, Leningrad and Type 7/7U (which some refer to as the Gordy and Silny-classes respectively[1]) along with the singleton vessels Tashkent, Opitnii and the turn of the century Konstruktor. All fronts are covered from the Baltic to the Pacific, with specific details elucidated about each class such as design, development, modification and wartime service.
It may surprise the reader to learn that, "on the outbreak of the Great Patriotic War not a single Soviet destroyer was equipped with SONAR, ASDIC or an equivalent active submarine detection device, nor any form of RADAR." [2]  Soviet destroyers suffered from a number of challenges, such as antiquated weapons, lack of sensors, top-heavy hulls, poorly trained crews, and in some cases constant German air attack, but still managed to carry out their assigned missions despite suffering heavy losses.
Against the turbulent backdrop of World War I, some Tsarist-era warships survived to fight in World War II in the form of the Novik-class. While never intended for a modern combat environment such as the June 1941 invasion of the Soviet Union, they again proved useful, albeit to a different regime. These aging destroyers retained their main 102mm armament (until 1942) and by WWII they did gain additional anti-aircraft, depth charges, paravane trawl gear and in some, minelaying ability. Though old, their sea-keeping abilities exceeded some of the newer ships', which led to their extensive usage during the war and resulted in the loss of ten of 17 ex-WWI Noviks.
The most numerous of World War II-era Soviet destroyers, the modern well-armed (130mm main gun) Type 7 and 7U, served in all fleets, including the Pacific, and eventually received RADAR and ASDIC capability as part of the Allied war effort, even if their crews were not trained to use them effectively. Just like the other Soviet destroyer classes, these two suffered high losses: ten of 28 Type 7s lost and nine of 18 Type 7Us lost.
This title contains an array of color graphics, such as multi-views of Soviet destroyers, a few displaying the uncommon prewar "brick red" deck coloration which wisely gave way to gray by mid-war. Osprey ship-oriented titles typically feature a cutaway graphic, [22-23] in this case the Uragan is the subject but the image does not feature much of a hull cutaway save for the engine spaces when compared with previous editions of the New Vanguard series such as the two British Destroyer titles (New Vanguard #246 & 253) and German Destroyers, 1939-1945 (New Vanguard #91). Also of interest is that this ship was not a destroyer per se, but a "guard ship" [storozhevie korabli] employed largely in escort duties as a small destroyer, and would not match up well against a contemporary German destroyer. [15] This cutaway also demonstrates the Soviet penchant for awkward weapons mount placement, such as the single 45mm 21-K AAA gun mounted just forward of the single dual-purpose 100mm B-24-BM mount; this quizzical arrangement must have limited the 100mm forward mount's field of fire to engage targets.
A welcome inclusion are two singleton vessels built with Italian assistance: the Tashkent and Opitnii. Both vessels were meant as lead ships, but owing to the war and other limitations these larger, destroyer leader-sized vessels remained the only ones in their respective classes. Tashkent sank in the Black Sea due to German air attack in 1942, then was raised and later scrapped while Opitnii operated intermittently as a "floating battery" in the Leningrad area. [44-45] Hill also discusses the 1906 vintage Konstruktor (ex-Tsarist Sibirskii strelok), used by the Soviets as a guard ship, sunk in 1941 on Lake Ladoga then raised and returned to service in 1943 as a gunboat. [45] Likewise, the Soviets were able to raise three other destroyers after their loss and return them to action due to loss in the littoral and/or harbor such as at Kronstadt.[2]
Finally, Alexander Hill's Soviet Destroyers of World War II provides a useful primer on Soviet destroyers while also shedding light on how Stalin's smaller surface combatants spent the war, often under difficult to extreme conditions ranging from the Black Sea to the Baltic. Anyone interested in Soviet naval operations (or just obscure naval history) will enjoy the book, which provides a whirlwind glimpse of the various destroyer classes operated in World War II and their specifics. A fine collection of images, some rare, complement the text and add to the value of this compact retelling of warships typically overlooked by contemporary historians.
[1] David Brown, Warship Losses of World War Two, (Annapolis: Naval Institute Press, 1995), 200-201.
[2] Ibid., 50.
Jeff Schultz teaches history and political science courses at Luzerne County Community College in Nanticoke, PA. He has presented papers at the McMullen Naval History Symposium, the Northern Great Plains History Conference, Midwestern History Conference, Missouri Valley History Conference, The Vietnam Experience Conference, and the Seventh Triennial Vietnam Symposium about various military and naval history topics.