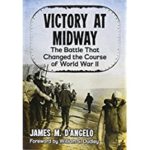 Victory at Midway: The Battle That Changed the Course of World War II
by James M. D'Angelo.
McFarland Press, Jefferson, NC, 2018. 198 pp., $35.00.
This book is more than another account of the Battle of Midway. Yes, the author covers the story of the naval engagement between the Imperial Japanese Navy and the U.S. Navy in the waters off Midway, but in this book he offers some fresh insights into the decision making undertaken by both the Japanese and American high commands. The author also provides a thought provoking investigation and analysis of why Lt. Cdr. Stanhope Ring and his squadron of aircraft did not find the Japanese carriers on 4 June 1942.
Overall, the author promotes the premise that the Battle of Midway was not just a turning point in World War II but a turning point in world history. He contends – correctly, I believe – that if the United States had been defeated at Midway, the country would have abandoned its European First Strategy and switched its great forthcoming military and naval strength from attacking Germany to attacking Japan. The consequences of such an action would have resulted in a world far different from the one we presently live in.
The book closes with two excellent chapters: "Analysis of the Defeat" and "The Significances of the Battle." I am sure that not all readers will agree with the author's reasoning in the former, but within this chapter he dissects what he considers the strategic and tactical errors the Imperial Navy committed in preparing for and in conducting the fight to capture Midway and destroy the remains of the U.S. Navy's Pacific fleet carrier force. He then goes on to explain how the United States Navy implemented the correct strategic and tactical planning for winning what became known as the Battle of Midway.  The last chapter, "The Significance of the Battle," is an examination of what ifs, such as what would have happened on the world stage if the U.S. Navy been defeated and lost its three Pacific Ocean based carriers at Midway. This is alternative history at its best and is well worth reading and pondering.  The author provides two appendices at the end of his book that provide concise technical information on the Japanese and American carriers and aircraft involved in the Battle of Midway.
This book should interest both the novice starting to learn about the Battle of Midway and the naval historian who has examined the battle from all viewpoints.
Charles H. Bogart