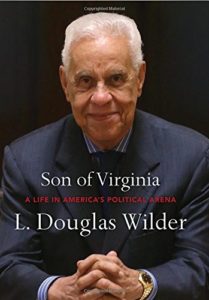 So why is the Naval Historical Foundation reviewing a major political figure's autobiography, first published in 2015, now available in paperback, but with no direct connection to the sea services?
For this reviewer, it comes down to Doug Wilder's descriptions of personal character as honed especially by his mother and leadership forged on Old Baldy and Pork Chop Hill as a draftee in an Army just beginning to be integrated in his Son of Virginia.
In a book filled with interesting asides, but with most attention focused on Virginia politics and race, from the days of "Massive Resistance" opposed to any integration of Virginia's public schools to the death throes of the "Byrd Machine" which dominated the commonwealth for two generations, and a government often hamstrung over its own history in meeting 20th century realities, this one about his time under fire deserves special attention for what it reveals about the author and the times of the early 1950s.
This particular aside describes Ethiopian soldiers, who were part of the U.N. coalition to drive the North Koreans out of the south. Wilder, basically a black city kid in a rigidly segregated Southern capital, now a young man, noted the value of their night training in hilly, rough terrain, "so they were accustomed to mountains and the dark."
Wilder was perceptive enough to understand that those skills in other men could keep him and his buddies alive as the Chinese attacked and attacked and attacked.
"If I knew that the Ethiopians were either to my left or to my right, I relaxed a little. I also felt comfortably flanked by the first [c.q.] Marine Corps."
For his service, where he survived the death of men who had become his friends, Wilder received a Bronze Star. But he rarely talked about the award. When the award was used as part of a campaign manager's plan to show what kind of man Wilder was in his first statewide race, the candidate for lieutenant governor was blistered — by Koreans and other Asians for exploiting them for his gain.
Rising most quickly to his defense were "two powerhouses of the opposing party — Virginia Senator John Warner, a Korean War navy veteran, and New Hampshire Senator Warren Rudman." As the autobiography makes clear, Wilder, while finding their rapid response surprising, sees himself as a man of principle like Warner, former secretary of the Navy, and Rudman.
"The Korean War was a hellish experience. It took me ten years to stop having nightmares. …But to this day, the sound of an unexpected explosion causes me to jump."
Wilder's military service deeply affected the arc of his political career.  It was life-changing.
But Wilder also portrays himself as a man who genuinely wants to get things done, likes being among people and talking to them about what they want and is willing to work men and women who may be of another party or different racial or ethnic background.
Nothing made that more clear than in his first statewide race was his decision to campaign in Southwestern Virginia– Appalachian coal country and overwhelmingly white.
As governor, Wilder's work with a divided legislature, the state's business community and local government over how to cope with a looming financial catastrophe was masterful. The anecdotes he gives to this are interesting, but really need to be fleshed out to understand how dire the times were for the state government.
To put all cards on the table, I have met Doug Wilder and directed news coverage at one of the state's largest daily newspapers of Virginia government and politics that he was intimately connected with. After leaving that editorial position, I voted for him as lieutenant governor and governor.
Having said that, Wilder's final chapter, "Ringing the Bell" should be a must read for anyone considering a public life, to include a career in the military– for what it says about race — after all he was the first African-American to be elected lieutenant governor and governor of a Southern state; the demands and price of politics and career upon family life; the need for a moral compass; the importance of community — from churches to social organizations; the absolute necessity of studying and learning and overcoming the inertia that leads to cynicism "about Washington gridlock and the petty squabbles that swarm across every issue."
Bluntly, Wilder says "It's hard work."
Then he wrote that person can follow is mother's and Socrates' advice, "Know you're right, then proceed."
All the services stress "leadership" and how they work to instill it through the ranks through example and learning.
Son of Virginia should be added to the "learning kit" and the CNO's and commandant's reading lists. Wilder was a practitioner and has valuable insights into considerations of decision-making that define a leader. It belongs with historians Michael Beschloss's Presidents of War and Doris Kearns Goodwin's Leadership in providing today's perspective on honor, integrity and courage in rising to successfully meet life-threatening challenges — in and out of uniform.
---
Son of Virginia: A Life in America's Political Arena
By L. Douglas Wilder, Lyons Press, Guilford, CT. (2018).
Reviewed by John Grady. John Grady is a past recipient of the NHF Volunteer of the Year Award.
Buy Son of Virginia: A Life in America's Political Arena now!