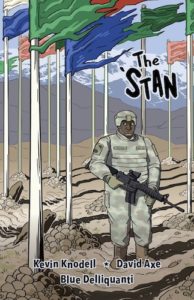 The 'Stan is a collection of 17-short comic book style stories told by Afghanis and Americans having firsthand knowledge of America's longest war. Each short cartoon briefly describes an individual's personal story of the events leading up to the conflict and their roles during the actual war. While illustrated in cartoon form, the stories in this book are an accurate depiction of U.S. Military intervention in Afghanistan. This book is easy to read, meaning one can consume it easily during a long lunch.
At the end of the first short story, titled "Afraid of Everything," the Taliban ambassador to Pakistan, Abdul Salam Zaeef, said the "whole plot of war was decided very soon after 9/11 [but] America's blood had already started to boil before that time; they were just looking for an excuse." He went on to say "America should have used its mind and logic after 9/11; they should have investigated. Their haste was their hubris." This initial story stands out in a way that lays the foundation for how following the stories will unfold. Subsequent individual accounts of the war are a demonstration of the haste and hubris described by Zaeef. Money flows from a U.S. government with a limited amount of understanding of Afghan culture or exactly how these allocated funds would contribute to improving the social, economic, and political livelihood of the Afghani people.
My love for comics is one reason for accepting the opportunity to review this book.  Digesting history through an animated style of narration lightens the task of reading history, it adds color (literally) to learning through story telling. These drawings will capture your imagination so much more than words alone. It leaves the reader with a broad perspective of America's longest war in less than two hours of reading. One of the books authors, Blue Delliquanti, contributed to this book as cartoonist and illustrator. Blue likes to write about robots, insects, and unconventional families. She is the creator of the online comic O Human Star and the co-creator of the graphic novel Meal with Soleil Ho. Blue's illustrations are key to making the history of Afghan War easy for young people, including college ROTC cadets or Initial Military Trainees to digest. Many of the short stories are about building relationships with Afghan Tribal Leaders and families in urban and remote communities and the importance of staying engaged in those relationships. Reading about this relationship building narrative while seeing it illustrated strengthens the message to our young cadets and trainees.
Among other things we learn from Specialist Donald Lee's experience titled "Winter in Korengal" is how acts of kindness have long lasting effects. There were Afghan families providing warm meals and tea to U.S. Army Soldiers out on patrol during the cold winter of 2003, these acts of kindness kept him grounded when war stuff got harsh and complicated. "From Hooters Waitress to Soldier," is a very compelling story detailing how this young woman uses her youthful zest and charm to gather human intelligence in Afghan villages.
Contributing to these well told stories is writer David Axe and journalist Kevin Knodell.  David is an editor and filmmaker, a former war correspondent, and has written for many publications to include Vice, The Daily Beast, and the Village Voice. In the final story of this book Kevin recounts stories Soldiers communicated to him in a relaxed social atmosphere. As a journalist Kevin covers conflict, culture, and crime. His work appeared in Playboy, The Week, Vice, Soldier of Fortune, The News Tribune, and others. He's a former contributing editor at Warisboring.com and writes the Acts of Valor comic series for Naval History magazine. 
---
The 'Stan
By Kevin Knodell & David Axe, illustrated by Blue Delliquanti, Dead Reckoning, Annapolis, MD, (2018).
Reviewed by LTC Victor McGee, USAR, Military Faculty, Joint Forces Staff College, Norfolk, VA.
Buy The 'Stan now!