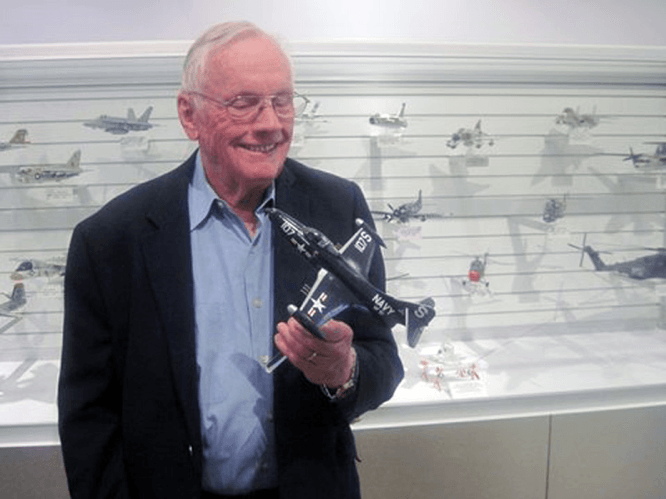 Among the notable names of past U.S. presidents, retired Fleet Admirals, and famous authors who have held memberships with the Naval Historical Foundation is astronaut Neil Armstrong. With the 50th anniversary of his stepping on the lunar surface to exclaim "One small step for man, a giant leap for mankind," the Naval Historical Foundation takes pride in reminding folks that Armstrong got his aeronautical start in the United States Navy where he achieved some notoriety as a fighter pilot flying F9F Panthers in Korea.
Within the Cold War Gallery of the National Museum of the U.S. Navy there is a display case containing models of aircraft that the Navy flew during the Cold War. Individuals who spent considerable time in the cockpits of each of the aircraft were invited to sponsor each of the models. Armstrong was delighted to be the sponsor the F9F Panther that currently is on display. Lt. Cdr. Michael "Psycho" McLeod fabricated the models currently on display. Most models were modified from kit models while others were built from scratch.
In 2011, Armstrong visited the Cold War Gallery to assist the curators with the installation of his aircraft.