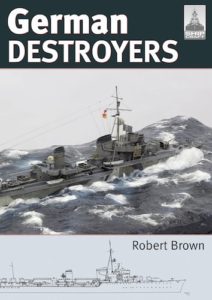 Robert Brown's German Destroyers is an impressively concise work which expertly details the Kriegsmarine's destroyer classes of World War II in such a manner as to please the historian, ship modeler and naval enthusiast simultaneously in a thoughtful and energetic presentation well supported by a range of varying images.
Brown divides the 64-page book into eight sections: Design, Z39 in Close-up, Model Products, Modelmakers' Showcase, Color Schemes, Appearance, Plans and finally Selected References.
Brown begins with "Design," where he discusses in detail the Kriegsmarine's destroyer backstory, the specific technical aspects of the Type 1934, 1934A, 1936, 1936A, 1936A (Mob) and 1936B (Mob) classes plus the projected 1936C and 1942 classes. He focuses on machinery, various armaments (main gun, anti-aircraft (AAA), torpedoes, depth charges and mines), fire control, and sensors along with a robust discussion of criticisms such as the hull, machinery, armament and even exigent personnel issues, which reduced effectiveness. This section will appeal to those seeking historical details enhanced by ample wartime photographs. Among topics, this section mentions the lack of main gun ammunition which proved deadly at Narvik in 1940 and details the shift to 5.9-inch (last 15 vessels) from 5-inch guns (first 25 vessels) in the hopes of providing more of cruiser-level firepower but overall failing to make a difference. [5] Also provided in this section is a summary of all the destroyers, their fates and relevant other data, which provides a single-page reference. [13]
"Z39 in Close-up" provides a revealing photo-essay of the Z39, retained by the victorious US Navy for testing purposes. A number of excellent postwar photos of various details such as the sensor masts and torpedo mount are highlights. [14-16]
"Model Products" discusses over two-dozen model kits and accessories from Hansa to Trumpeter produced from 1960-2016 (ranging from 1:1250 to 1:250 scale), using a detailed reference chart [17] which rates each model on three categories on a scale of 1(high) – 5 (low): detail, accuracy and complexity. There are also color photos accompanying this section to show the ship models and/or box art along with helpful annotations.
"Modelmakers' Showcase" exhibits a dozen different ship models built by various modelers in 1:100 to 1:700 scale. Several models feature realistic water scenes, which add to the visuals and enrich the details provided. Some involve dioramas such as "Narvik Harbour" which features two destroyers alongside the Postal Pier in April 1940 [28-29] and also the wallowing post-collision Z37 waiting for a tow in the Bay of Biscay in January 1944. [40-41]
"Colour Schemes" details a range of fourteen paint schemes utilized from 1939 to 1945 across differing classes with accompanying paint guide, such as how the Z2-Georg Thiele appeared prewar, the interesting "vanishing point" scheme used on Z32 in 1943 and Z39's disruptive "false bow" pattern in 1944. [46-48]
"Appearance" discusses differing configurations within the various classes, such that the exact AAA armament of a particular ship within a class could be determined at a given time, as well as other relevant details such as sensors and tactical numbering. There are also useful comments for each class regarding identification features such as "short wide funnels" for the Type 1936 vessels. Specific criticisms of the classes are here such as the relative unseaworthiness of the Type 1934 design, which led to plans to "reduce them to a training role by 1941." [52] Interesting tidbits further include the aerial recognition colors painted on the main gun mounts like yellow (Norway 1940) and blue (Operation Cerberus 1942). [49] Also mentioned is the late 1944 "Barbara" upgrade, which sought to add more AAA protection to the destroyers, usually by removing one of the aft main guns along with other modifications using 20mm, 37mm and/or anti-aircraft rockets. [49-50]
"Plans" provides twelve sets of line drawings offering both side and overhead views of destroyers from Z1 to Z43. Instead of merely providing all different ships, Brown wisely uses several sets of same ship line drawings to show augmented AAA defenses, such as the Z5-Paul Jacobi from 1943 to 1945 and the Z28's transformation from 1942 to 1945. [60-62]
"Selected References" provides sources consulted; largely photographic, technical, operational-level and internet sources relevant to the topic. Examples include Cajus Bekker's Hitler's Naval War (1974), Alf Jacobsen's Death at Dawn (2016) and Anthony Preston's Super Destroyers (1978). [64]
Brown's German Destroyers masterfully presents the Kriegsmarine's destroyer classes in a coherent and thorough manner with a plethora of photographs, line drawings, ship model images and camouflage scheme examples. In particular, German Destroyers offers a stunning visual reference, which augments other works about the Kriegsmarine in a rewarding manner. His attention to detail matches the superlative claim from the back cover, providing an "unparalleled level of visual information." This effort of the impressive ShipCraft series is a one-stop reference for not only modelers, but also historians and general naval enthusiasts who appreciate the varied methods to gain a deeper insight into the German destroyers that bore the brunt of the April 1940 bitter fighting in Narvik and served until the end of the war.
---
German Destroyers (ShipCraft #25)
By Robert Brown, Seaforth Publishing, Barnsley, UK, (2019).
Reviewed by Jeff Schultz. Jeff Schultz teaches history and political science courses at Luzerne County Community College in Nanticoke, PA. He has presented papers at the McMullen Naval History Symposium, the Northern Great Plains History Conference, Midwestern History Conference, Missouri Valley History Conference, The Vietnam Experience Conference, and the Seventh Triennial Vietnam Symposium about various military and naval history topics.
Click here to buy German Destroyers (ShipCraft Book 25) now!