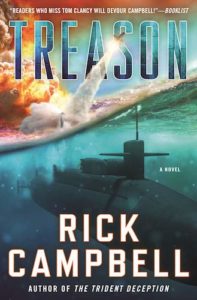 With a provocative title, the fast-paced novel captures the reader from the first page and offers an elaborate plot, capitalizing on relevant NATO concerns over Russian ambitions toward the Baltic States. The novel unfolds scene-by-scene, like a novel ready-made screenplay. The chapters are short and driven by character and plot development. There is just enough military detail and international political-strategic background to make the story realistic. Which makes sense given that Rick Campbell is a former navy submarine officer. His narrative brings the reader inside a submarine, capturing one's interest from the start. He details through good use of fiction how a submarine may operate. His experience adds credibility and realism to the almost unbelievable ordeal that the submarine captain and his crew have to overcome to complete the mission before time runs out.
After a failed Russian attempt to use military force to annex the Baltic States, the Russian Chief of the General Staff, General Sergei Andropov, orchestrates a plan code named The Zolotov Option, to employ advanced Russian military cyberspace capabilities to neutralize United States nuclear response capability and give Russia a free hand in Eastern Europe. Russian President, Yuri Kalinin, rejects Andropov's scheme, and Andropov arranges to have Kalinin kidnapped during a meeting with the United States National Security Advisor Christine O'Connor. Andropov's treason gives him the leverage to initiate the Zolotov Option. With its nuclear weapons rendered useless, the United States cannot deter the Russian invasion. Given the circumstances, the U.S. president approves a mission for a naval force to rescue Kalinin and O'Connor.
At this point, the narrative focuses on the two officers assigned to the complex and dangerous mission. One is the commander of the nuclear submarine U.S.S. Michigan tasked with inserting a Navy SEAL team to conduct the rescue. The other is the SEAL platoon leader, who is romantically interested in Christine O'Connor, giving him plenty of motivation. The plan for the rescue mission is thwarted, leaving the SEAL platoon leader to make a torturous life and death decision: save the Russian President or save Christine O'Connor.
The outcome, for most readers, is predictable. Yet, it is an entertaining read because the author's first-hand knowledge and experience lend it credibility. Rick Campbell acquired his knowledge over twenty years of service in the U.S. Navy which uniquely qualified him to detail the submarine's ordeal from the submarine commander's perspective. Mr. Campbell's perspective made this the most interesting part of the story detailed with seemingly eyewitness encounters and not from the position of an interviewer. The combination of author and content suggests that even the most worn plot devices can still have surprising affect in the hands of the right author.
---
Treason
By Rick Campbell, St. Martin's Press, New York, (2019).
Reviewed by CDR Wilbur Hall, CISSP, Instructor, Joint Forces Staff College.
Click here to buy Treason: A Novel now!