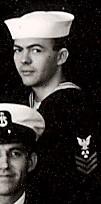 Four years ago this week, USS Enterprise (CVN-65) was decommissioned at Newport News Shipbuilding's Virginia shipyard. Her unprecedented (for an aircraft carrier) 51 years of active operations included defending America's interests around the globe during a total of 25 deployments.
That shipyard decommissioning ceremony in February 2017 was a celebratory but somber occasion, with just a few hundred final crewmembers and guests present. Among those present was a special invitee—a 77-year old former Navy first class machinist's mate whose voyage through life had never strayed far from that iconic ship. Ray H. Godfrey made the long trip from Colorado because he would not consider missing that event, despite the fact that he was already battling the rare form of Leukemia that would finally take him from us on January 19th of this year at his home in Montana.
Ray was born in 1939 in Greybull, Wyoming. He joined the Navy in his late teens, went through rigorous engineering training, and was assigned to Enterprise during her construction. As a "plankowner," meaning that he was part of the first crew assigned, he participated in her 1961 commissioning as the world's first nuclear powered aircraft carrier.
With that unique experience early in his life, it was only natural that after ten years in the Navy, followed by ten years of Air Force service, retirement from the military and then a 21-year civilian career at Westinghouse in New Mexico (where he met and married his life partner, Dee), Ray turned his abiding love of the Navy into a five-year, 2007-2012, tour as curator for the nonprofit Naval Historical Foundation (NHF) in Washington, DC.
NHF, already 80 years into a mission of commemorating Navy events and preserving its history when Ray joined us, was committed to dispersing its vast collection of Navy artifacts, photographs and personal papers to the Navy's collection, the Library of Congress's Manuscript Division and many other worthy government and nonprofit organizations. Following the good work of previous NHF curators Jennifer Lloyd Marland and Connie Beninghove, Ray worked hard to find appropriate homes for thousands of unique items from NHF's collection. In the process, he routinely connected with many aspects of USS Enterprise's history, not the least of which was his weekly contact with his former Big E commanding officer—then, in the 1960s, Captain James L. Holloway III—now in the early 2000s, retired former Chief of Naval Operations Admiral Holloway, the Chairman of the NHF Board. Ray's dedication to his task and professional work with the collection earned him the 2009 NHF Volunteer of the Year award.
Ray remained in contact with many other Enterprise commanding officers and helped raise the funds in 2000 for the creation of a special shipboard compartment that featured the history of the ship and her seven predecessors named "Enterprise." After making the ship's first deployment in 1962 as a hard working machinist's mate, he was honored to embark 50 years later as a guest of the commanding officer for the last leg of the transit home from the ship's final deployment in 2012.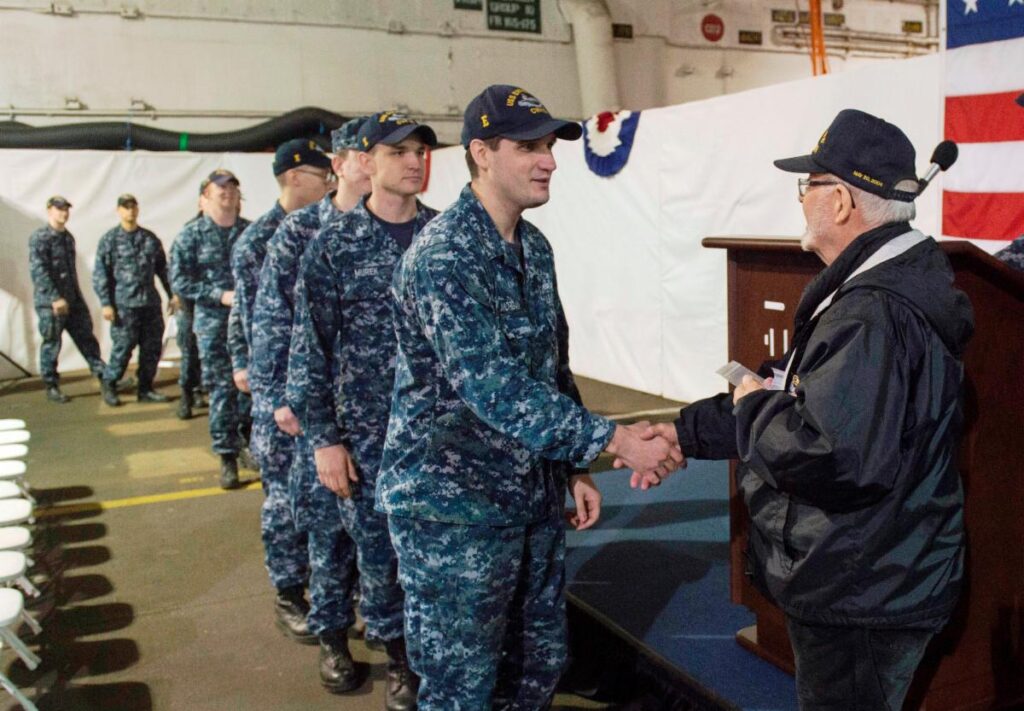 His dedication to his ship and every sailor who ever served in her was symbolized by his role at the 2017 decommissioning where he greeted each of the final crewmembers with a handshake and a commemorative NHF-produced coin to mark the occasion.
Ray was my friend for two decades, and my father's shipmate too, as they both served in the Big E during 1964's Operation Sea Orbit, the 'round the world cruise of the first nuclear task group; and 1965's first combat deployment to Vietnam by a nuclear carrier. He will be missed by all of us, but his example of service and dedication will undoubtedly live on, in the crew of the next USS Enterprise (CVN-80), expected to join the fleet later this decade.
– Captain Charles T. (Todd) Creekman, USN (Ret.)
Naval Historical Foundation Executive Director Emeritus
[Editorial postscript: Without the dedication of its volunteers, the Naval Historical Foundation could not survive. To all those who, like Ray Godfrey, have generously devoted their time and energy to this organization, thank you. If you are interested in following in Ray's footsteps by volunteering with the foundation, please do get in touch, either by emailing [email protected] or calling us at (202) 678-4333.]