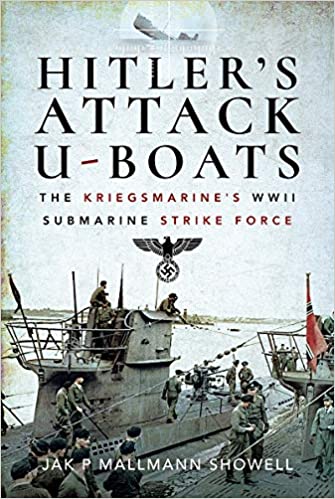 Reviewed by Charles C. Kolb, Ph.D.
During World War II, Hamburg, Germany's second largest city – an industrial center with oil refineries, extensive shipyards, and U-boat pens — endured 115 British Royal Air Force strategic bombing raids (1939-1945), one of which in July 1943, code named Operation Gomorrah, created a huge firestorm killing an estimated 58,000 and injuring an additional 180,000. Later the British would call Hamburg the "Hiroshima of Germany." Jak P. Mallmann Showell, son of a U-boat diesel mechanic recently killed in action at sea, was born in 1944 and grew up in the devastated city. He went to London in 1954 and has lived in England ever since, where he worked as teacher and educational science adviser for many years before turning to writing, researching and photography. Being bilingual has greatly assisted his research in locating and understanding documents produced by both sides during the war; notably, he consults original first-hand documents such as wartime logs and other accounts written shortly after the events. His investigations are also based on numerous oral history interviews with surviving U-boat personnel, among others.
He has written extensively about naval activities during World War II (ca. 40 books, about half in English and others in German, many with Helma Schürer). His first book, U-boats Under the Swastika: An Introduction to German Submarines 1935-1945 (1973, 1987), appeared as Das Buch der deutschen Kriegsmarine, 1935-1945 (1982) and has become one of the longest selling naval books in Germany. His next, the highly illustrated The German Navy in World War Two, (1979), was named as one of the outstanding books of the year by the United States Naval Institute. Mallmann Showell's books are often reviewed and his publications have resulted in being named a "respected authority" on the Kriegsmarine. He has been awarded the Silver U-boat Badge by the German Submariners' Association in Munich. He has also presented lectures at special Battle of the Atlantic weekends and has assisted in the production of television and radio programs. He is the English Language Representative for the German U-boat Museum (formerly the U-Boot-Archiv) and has been awarded the Silver U-boat Badge by the German Submariners' Association in Munich for furthering international relations and maintaining naval traditions. Among his other books of interest to readers are on cryptography: German Naval Codebreakers (2003) and Enigma U-boats: Breaking the Code (2000, revised ed., 2009); general syntheses: Hitler's Navy: A Reference Guide to the Kreigsmarine 1935-1945 (2009); and the Battle of the Atlantic: Wolfpacks at War (2002), Hitler's U-boat Bunkers (2007), Swastikas in the Arctic: U-Boat Alley Through the Frozen Hell (2014), and Hitler's "Wonder" U-boats: The Birth of the Cold War's Hunter Killer Submarines (2018).
In his latest work published in October 2020, Attack U-Boats: The Kreigsmarine's WW II Submarine Strike Force, focuses on three main types of U-boats that played significant roles in the Battle of the Atlantic. The volume has a two-page "Introduction," ten chapters, four appendices, a "Glossary" with 243 entries defining abbreviations and German terms, and a brief double-column "Index" including topics, some proper-noun names, and list of the U-boats discussed in the book. The narratives are augmented by nine tables and 232 splendid black-and-white images with informative captions.
"Introduction (pp. vi-vii). The author indicates that "most of the material for his book comes from the German U-boat Museum in Cuxhaven-Altenbruch" and he lists 12 museums in Europe (mostly located in Germany) and one in the United States (The Museum of Science and Industry Chicago, IL displays U-505) mention in the narrative. The U-995 is on display in Laboe near Kiel and U-534 at Birkenhead, UK. He does not mention the training boat U-2540 scuttled, resurrected, and recommissioned as Wilhelm Bauer in the German Federal Navy serving until 1982, now on display at the German Maritime Museum, Bremerhaven, Germany (see a popular article and color images of all four U-boats in Melinda Musil's (2014) "Remains of the U-Boats' Watery Reign: The Four Final Iron Coffins" www.atlasobscura.com/articles/remains-of-the-uboats-watery-reign-the-four-final-iron-coffins. "She [U-2540] was one of the most technologically advanced U-boats built by the Nazis, and one of the first submarines designed to operate primarily while submerged, rather than on the surface and only diving for a short time" (Musil 2014).
1 "Attack U-boats of the Second World War" (pp. 1-2). The three main boats, all with roots to the First World War, were: Types II, VII, and XI. Type II: small coastal boats based on UB II (built in 1915), UF (1918) and the Finnish-built Vesikko. Type VII: medium-size seagoing boats based on UB III (1915-16) and Finnish forerunner Vetehinen. Lastly, Type IX: large, ocean-going double-hulled boats, developed from U-81(1915) and an early version of the Russian D-2 built in Leningrad from German plans. D-2 is now on display in a museum in St. Petersburg (formerly Leningrad). The author does not inform the reader as to the actual measurements or identify his definitions of "small," "medium," or "large" (Appendix III provides the answers).
2 "Lessons Learned from the First World War" (pp. 2-11, 11 illustrations, 1 table). Details on the UB-III Project, UB-49, UB-126, and UB-122 illustrate characteristics of these vessels incorporated into the Type VII U-boats of World War II. UB-122 was one of the surrendered boats brought to the UK for "recycling" and sunk in Medway estuary; its current status is elucidated and illustrated with six images.
3 "The Aftermath of the First World War" (pp. 12-18, 3 illustrations). British and other nations' perspectives are combined focusing on postwar European governments, among them Finland situated between German and then Russia as allies. Postwar submarine adaptations included depth charges (mines) and the author characterizes UB-65 as a precursor of Type VII submarines. Notably, Finland, Spain and Turkey utilized German expertise and refined precision engineering in developing their respective submarine fleets.
4 "Early Developments" (pp. 19-37, 19 illustrations). The Finnish Vesikko (CV707) and Saukko had advanced hydroplane controls, periscopes, diesel engines, and torpedoes, and the Russian D-2 (Dekabrist) and D-3 also manifested important innovations.
5 "The Second World War in a Nutshell" (pp. 38-42). The author emphasizes advances starting in 1935, reporting some British and German advances such as Asdic, Huff Duff, the convoy system, wolfpacks, U-boat armaments, and, later in the war, the schnorkel and well as British serious mechanical failure on her boats.
Mallmann Showell's next two chapters provide detailed information about World War II attack boats.
6 "1935: The New Generation of Attack U-boats" (pp. 43-56, 13 illustrations). The Type II coastal boats remained in the Baltic Sea, while ocean-going Types VII and IX were the main varieties of attack boats. Radar equipped Type VII had pressurized hulls and utilized G7e (electric) or G7a (internal combustion) propulsion torpedoes, while Type IX was a double-hulled vessel with external tanks and modified bow but was slow diving. A variant, Type IX B, was the most effective U-boat during World War II. A subsequent chapter,
7 "Attack U-boats: The Main External Features" (pp. 57-115, 57 illustrations, 3 tables), provides the reader with significant information on the type's characteristics including armament, the conning tower, and equipment and features of construction. The net cutters (a feature in many World War II films) were actually left over from World War I and some Type IX craft had a specially-built dinghy. Guns included 20mm (later changed to 37mm) AA, an 88mm deck gun with 14,000m range and on-deck shell storage. Design changes for the conning towers and illustrated by images of U-34 VIIA.U-32 CIIA, U-30 VIIA, and U-889 IXC. Modifications to torpedo hatches and conning tower hatch are mentioned, while radar modifications after 1938 and schnorkels beginning in 1943 are documented in terms of testing and types. Details and measurements on torpedo types G7a and G7e also include information on the 300kg warheads, faults in early varieties, the process of arming and firing, the development of acoustic torpedoes, three types of torpedo-mines, and launching sub-surface rockets.
Chapter 8 "Internal Features of a Type VIIC" (pp. 116-120, 4 illustrations) is exceedingly brief and mostly consists of an excellent line-drawing showing 62 features.
9 "The Crew: Key U-boat Positions" (pp. 121-223, 223 illustrations) has images of sound-retarding doors and torpedo and engine compartments, as well as locations of the cook's workspace, radio operator, and torpedo mechanics. The Central Control Room is well-documented with navigator, watch officers, commander, engineering officer, and helmsman's spaces. "Life inside the U-boat: Gems in Little Known Museums" (pp. 216-223) features a variety of material culture such as culinary ware, the crew lavatory, and a four-wheel coding machine (the term Enigma machine is not used).
10 "Operational Command" (pp 224-220). Mallmann Showell clarifies the roles of Karl Dönitz (Commander of Operational U-boats) and Erich Raeder (Supreme C-in-C of the Navy) then discusses "major mistakes" that writers often make in discussing the U-boats, among them the radio-direction finder, code book changes (there were different codes for outbound and homebound), British codebreaking, and the fact that wolfpacks were not employed until six months after the war began.
Four appendices assemble various information: "Appendix 1: Wartime Statistics" (pp. 230-233, 5 tables): 1,171 U-boats commissioned, number of voyages made (zero to 22); monthly numbers of boats sunk by enemy action, monthly numbers of ships sunk by U-boats, and number of U-boats lost. "Appendix 2: The Attack U-boat Fleet: (pp. 234-237): 15 types and variants of attack boats (IA through IXD-2). "Appendix 3: Technical Data" (pp. 238-243): three types (Types IIC-D, VIIC, and IXC-IXC/40). And "Appendix 4: German Wartime Ranks" (pp. 244-245): Five groups with 24 individual ranks.
This informative volume provides readers who wish to know more about the subject with a definitive introduction by a highly-recognized authority who writes beautifully and clearly, providing enough for the reader to think about reading more about U-boats and, perhaps, other nations' submarines as well. The graphics and illustrations are excellent. The publisher has issued a highly durable hardback printed on quality glossy paper that brings great clarity to the images — many not published before – and the readable narrative. The unique features of the book include the discussion of the major external features of U-boats and the duties of the crew and stations aboard. The final chapter points out errors made by other writers on the subject and the information about surviving U-boats and equipment is valuable for museum goers.
---
Hitler's Attack U-Boats: The Kreigsmarine's WW II Submarine Strike Force, By Jak P. Mallmann Showell.
Reviewed by Charles C. Kolb, Ph.D., USNI Golden Life Member.
---