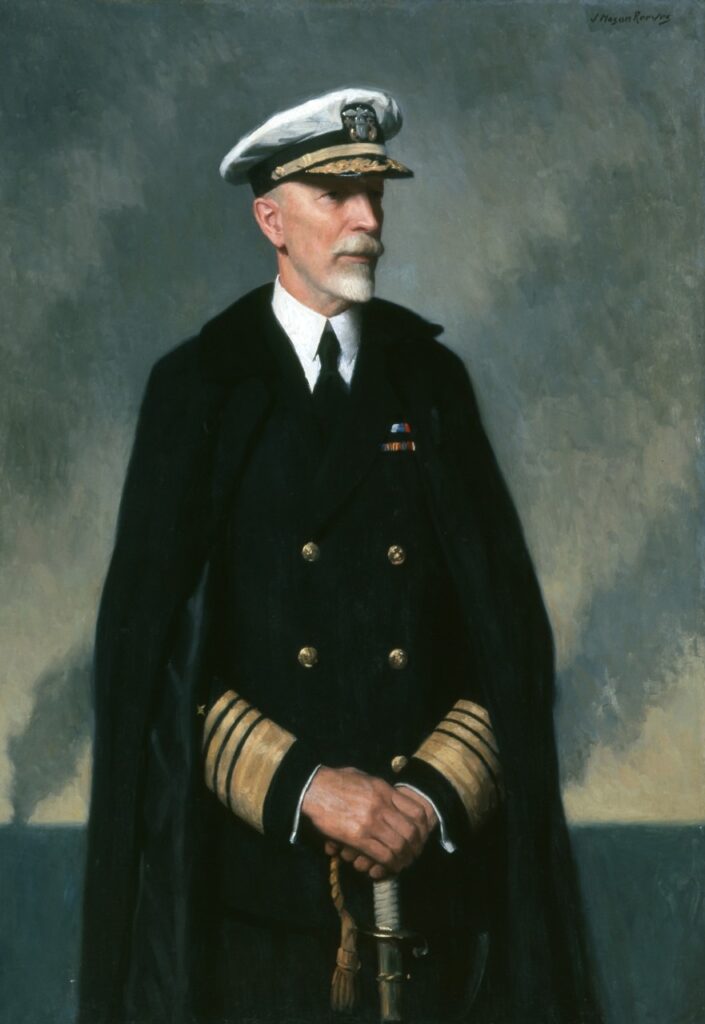 By Staff Historian David F. Winkler, Ph.D.
A native of Illinois and graduate of the Naval Academy in the Class of 1894 where he played football and is credited with being the first to wear head protective gear after being warned about consequences of further blows to the cranium, Joseph Mason Reeves was assigned to the cruisers Cincinnati and San Francisco as a "passed naval cadet" – the designation given to future engineering officers. Following passing a battery of tests administered back at Annapolis in 1896, his high scores earned him orders to the just-commissioned battleship Oregon. Reeves served in that ship's engineering department during the battleship's famed race around South America to reinforce the Atlantic Fleet in the days before the Spanish-American War. Positioned off Santiago de Cuba on July 3, 1898 as part of a blockading force, Oregon was accompanied that morning by the battleships Texas, Iowa, Indiana, cruiser Brooklyn, and the auxiliary cruisers Vixen and Gloucester.
When the four Spanish cruisers and two torpedo boat destroyers under the command of Adm. Pascual Cervera y Topete broke out of the harbor that morning and steamed along the coast to the southwest in an effort to evade the more powerful American force, the American squadron commanded by Commodore Winfield S. Schley followed in a column with his broad pennant flying from Brooklyn in the lead followed by Texas, Iowa, Oregon, Indiana, and Gloucester with Vixen steaming off Brooklyn's port side.
The order of the American column changed as Oregon accelerated. The captain of the Brooklyn would later report:
"The Oregon was keeping up a steady fire and was coming up in a most glorious and gallant style, outstripping all others. It was an inspiring sight to see this battleship with a large white wave before her, and her smokestacks belching forth continued puffs from her forced draft."
Regarding the two Spanish torpedo boat destroyers Oregon's commanding officer Capt. Charles Clark reported:
"At first, we used only our main battery, but when it was discovered that the enemy's torpedo boats were following their ships, we used our rapid-fire guns, as well as the 6-inch upon them with telling effect."
Rounds from the American warships also scored hits on the cruiser Infanta Maria Teresa forcing that cruiser to beach. Oregon's guns also poured fire into Almirante Oquendo, converting that cruiser into a burning hulk. Cervera maneuvered his flagship Vizcaya to challenge Brooklyn in a running gun battle. Despite scoring hits on Schley's flagship, Vizcaya also succumbed to multiple hits from Brooklyn, Texas, and Oregon. With her flag hailed down, Vizcaya beached herself. Only the new armored cruiser Cristabol Colon forged on with only Brooklyn and Oregon keeping pace some 12,000 yards astern. Oregon then Brooklyn fired from their forward turrets and Cristobal Colon turned to shore, sealing her fate. After steaming some 50 miles west of Santiago, the Spanish cruiser's captain decided that loss of life would serve no purpose and ran his ship aground and struck his colors. A boarding party from Brooklyn and Oregon arrived to claim the prize with Captain Clark detailing Reeves to be the prize-crew engineer. However, the surrendering Spanish captain had ordered the opening of the ship's seacocks and eventually the ship would succumb to flooding.
From the Oregon Reeves received orders to the presidential yacht Sylph. During this period the Navy abolished the Engineering Corps and Reeves morphed into a line officer with the prospects of eventual command at sea. He then was assigned as a gunnery officer in the new battleship Kearsarge. With that experience, he earned a tour back in Washington as assistant inspector of ordnance at the Washington Navy Yard. Reassigned back to the cruiser San Francisco he later was transferred to Wisconsin as the after-gunnery officer. His turret crew excelled in competition. Cross decked to the battleship Ohio, Reeves further enhanced his gunnery reputation. He returned to Annapolis in 1906 for instructor duty. Promoted to lieutenant commander, Reeves moved on in 1908 to become the ordnance officer of the new battleship New Hampshire. Reassigned as the Atlantic Fleet's gunnery officer, Reeves career was jeopardized when he was diagnosed with an enlarged heart. Ordered to Washington in January 1910 to appear before the Retiring Board for a medical examination, he was elated to learn that he would be retained. Reeves would go on to be the first commanding officer of the collier Jupiter which was commissioned on April 7, 1913. During the 1920s he would return to that ship which had been transformed into the Navy's first aircraft carrier USS Langley and fly his flag as Commander, Aircraft Squadrons, Battle Fleet. In his book All The Factors of Victory Thomas Wildenberg would credit Reeves for pioneering innovative developmental work in carrier aviation that would make a difference for the U.S. Navy during World War II.