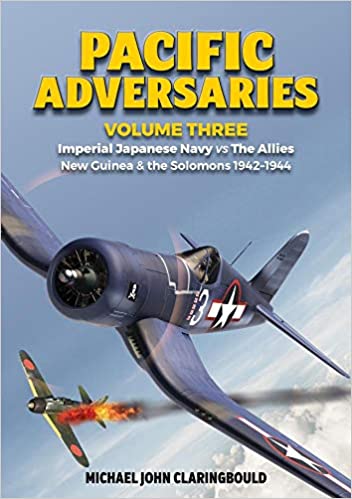 Reviewed by LCDR Brian Hayes, USN (Ret.)
Michael Claringbould has authored or co-authored more than a dozen works on World War II Pacific aviation, and as the title suggests, he previously produced two similar collections focused on New Guinea and the Solomons. This book is a collection of fifteen accounts of aviation operations in the Southwest Pacific theater of World War II. Most, although not all, describe air-to-air combat.  On the Allied side, U.S. forces (Army, Marine Corps, and Navy) are best represented, but the author (an Australian) also includes the Royal Australian and New Zealand Air Forces. In each chapter, he supplements his narrative with contemporary photographs and with color illustrations of the aircraft described therein. 
There is much to like about this book. The author's writing style is crisp and clear. Relying solely on primary sources, he compares and reconciles Japanese and Allied combat narratives and corrects the historical record – for example, pointing out where pilots inflated claims of air-to-air "kills," and identifying the aircraft at specific crash sites. The book is prefaced by a well-designed glossary, a reference guide to Japanese aircraft types, and two simple but useful maps of the theater of operations. In addition, Claringbould's illustrations, although not to scale, are excellent and complement the narrative. These are thoughtful touches and make a well-written book even more enjoyable to read. Claringbould's even-handed respect for the aviators he describes – Japanese included – are also strengths. 
Claringbould is a fine storyteller, but does not include much analysis of tactics and strategy; nor does he offer significant technical detail about the aircraft involved. While the book's scope is narrow, it will be extremely useful to modelers or aviation artists wishing to represent the aircraft described therein, as the illustrations include squadron insignia, tail numbers, and other detail. It would also be valuable for aviation cadets and young historians. The New Guinea campaign in particular has attracted relatively little attention from U.S. historians. For interested readers, this book would be a fine introduction and a steppingstone to more detailed histories of the campaign. 
---
Pacific Adversaries, Volume Three: Imperial Japanese Navy vs. The Allies, New Guinea & the Solomons 1942-1944, (Michael John Claringbould, Avonmore Books, Kent Town, Australia, 2020)