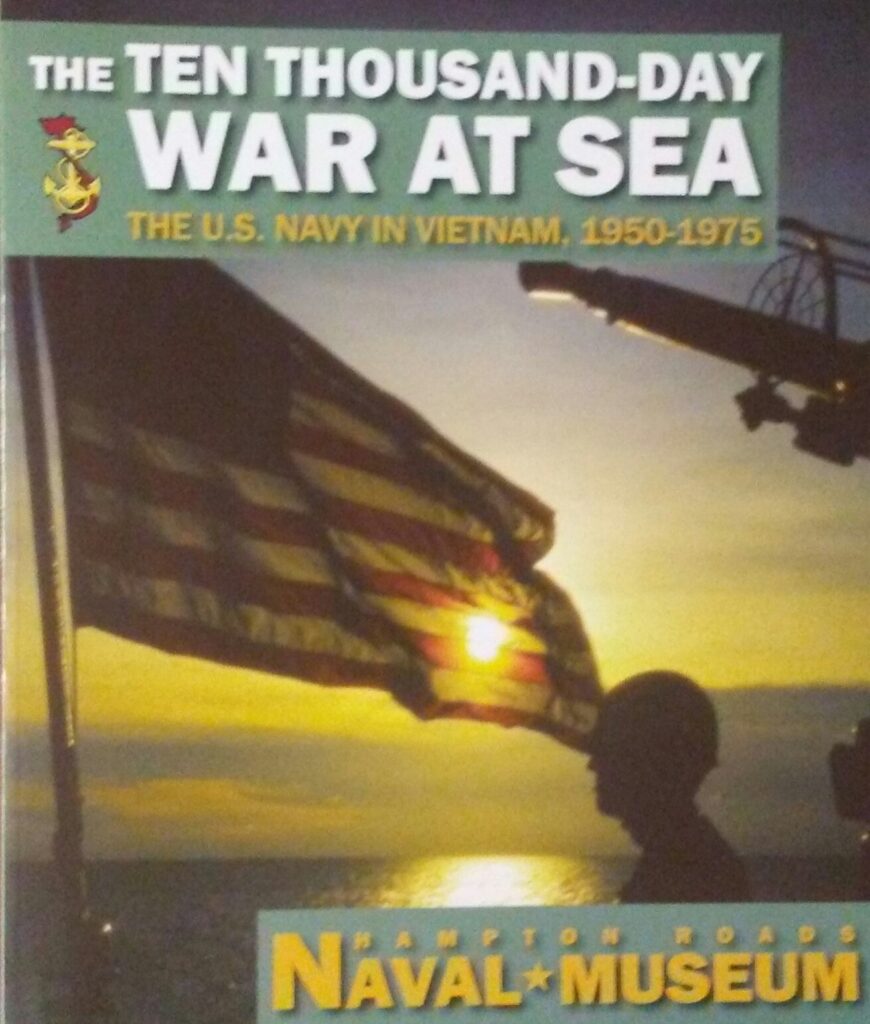 Reviewed by Major Chris Ketcherside, USMC (Ret.)
The Ten Thousand-Day War at Sea is a companion book to the Hampton Roads Naval Museum's exhibit of the same name, though it does hold up well enough on its own as a short summation of all U.S. Naval operations during the conflict in Vietnam.
The book is relatively short at 101 pages, and most of these are given over to photographs of Naval actions in Vietnam and the related exhibits at the museum. It is organized by topic, covering every facet of Naval operations during the war, including special forces, logistics, gunfire support, surface actions, aviation, and so on. Also covered in their own sections are exceptional events, such as Operation Linebacker, the fires aboard aircraft carriers, and the Tet Offensive.
These topics are covered with concise but thorough summaries as well as the aforementioned pictures. Some topics have excerpts from interviews with veterans applicable to that particular section. The pictures are always interesting and effective at illustrating the topic covered. The pictures of featured exhibits are intriguing and certainly make a visit to the museum seem appealing. The thorough coverage of these topics is the greatest strength of this book. The reader will walk away from The Ten Thousand-Day War at Sea with only a cursory knowledge of each aspect, but a deep appreciation for the variety and scope of all things Navy related in Vietnam.
If the book has any shortcomings, it is the lack of context and the almost complete absence of any controversial topics, such as the protests at home or the political turbulence in country. While the book's summations of the topics covered are excellent if short, they also seem sanitized to some extent, even the Gulf of Tonkin incident is summarized without noting the resulting controversy. There are notable exceptions, one of the topics featured is the racial strife aboard some ships. But this is not really the intent of the book. Readers should not expect to gain a comprehensive understanding of the Vietnam War from a Naval perspective, if it is even possible to gain so much from one book. This book is meant to accompany the reader through the exhibit and help them to understand the range of activities the Navy was involved in.
This book succeeds in its primary purpose. If one cannot visit the exhibit itself, it is the next best experience. It would also make a fine gift to anyone interested in the topic, and a handy reference guide to anyone who wanted to have a quick guide to the Navy's role in the war.
---
Major Chris Ketcherside, USMC (Ret.) served in Iraq in 2004. He is now an adjunct professor of history at the Missouri University of Science and Technology and a PhD student at the University of St. Louis.
The Ten Thousand-Day War at Sea: The U.S. Navy in Vietnam (1950-1975) (Hampton Roads Naval Museum, Norfolk, VA, 2021).