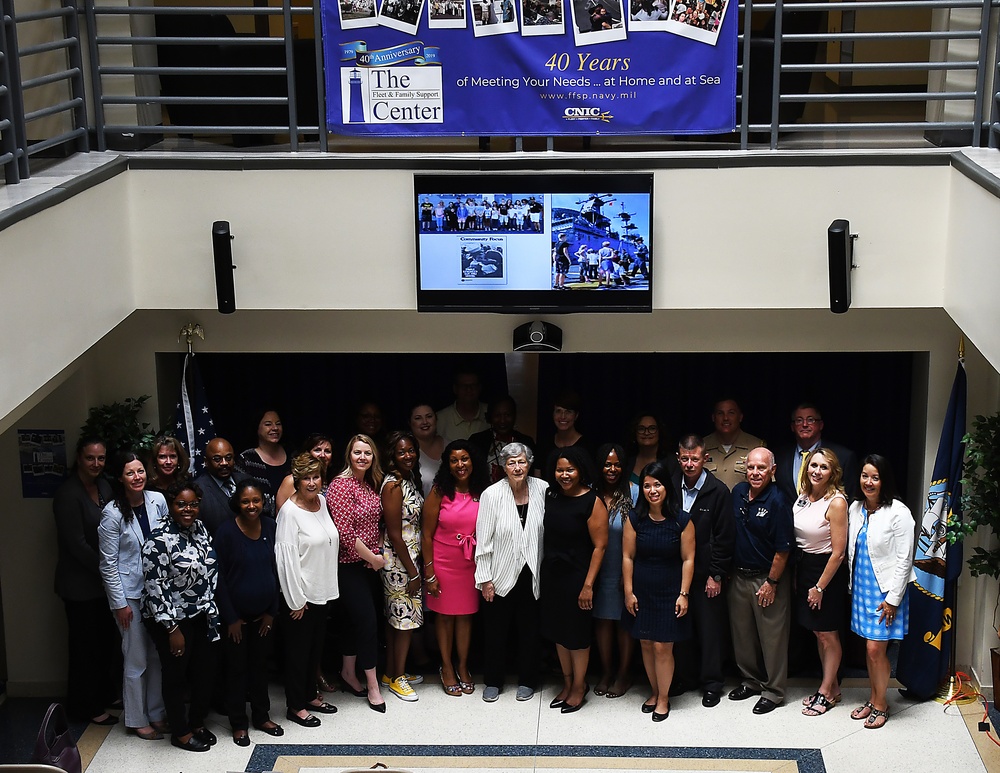 Dr. Ann O'Keefe poses with the Fleet and Family Support Program staff after a 40th anniversary celebration at the Washington Navy Yard, D.C. (Photo By Chief Petty Officer Brian Morales | July 16, 2019)
Dr. Ann O'Keefe, an educator and author who served as the first director of the U.S. Navy's celebrated Fleet and Family Support Program, has died in Gainesville, Va., from complications as she prepared for treatment of esophageal cancer. She was 86 years old.
Born Ruth Ann Harris in the St. Louis suburb of Webster Groves, Mo., Dr. O'Keefe received a B.A. in psychology from Bryn Mawr College, an M.A. in education from the University of Maryland, and, in 1965, a doctorate in education from American University. Hired as a teacher by the psychology clinic of the University of California at Los Angeles in 1961, Dr. O'Keefe was soon moved into a role that took advantage of her skills in winning grant-supported research for the school. She relocated to Washington, D.C., in 1963 to become a research assistant for a project funded by the National Institutes of Health. Also that year, she completed the prestigious mid-career Harvard Business School Executive Education program—in an otherwise all-male class of 162.
Dr. O'Keefe also helped launch the Head Start program, within the U.S. Department of Health, Education and Welfare–serving as national director of "Home Start," which delivered Head Start services into individual homes. While in that capacity, in 1970 she had her own multi-volume "Starter 101: A Structured Reading Program for Young Children" published and nationally distributed to schools by Silver Burdett Publishing Co.
In 1978 she was recruited as part of a team planning a new family support initiative for the U.S. Navy, and in January 1979 Dr. O'Keefe became first director of what is now the Navy's Fleet and Family Support Center, serving in that position for six years.
In 2019, she described the creation of that landmark Navy institution in her book, "Launching the Navy Family Support Program: A Heartfelt Blend of History and Memoir." In its foreword, Admiral Thomas B. Hayward, Chief of Naval Operations when the program was created, called her account "a history that cries out to be recorded and preserved." He noted that her "enthusiasm, perseverance and dedication" to the program "had no limits or superior."
In his review for the Naval Historical Organization, its former historian David F. Winkler said "Dr. O'Keefe has performed a herculean effort to capture an aspect of naval history that tends to be overlooked." He noted that in earlier times the service's view had been "…if the Navy wanted you to have a wife, it would have issued one in your sea bag."
After moving on from the Navy support program to become a U.S. Army consultant for a time, she returned to the Navy in the Pentagon from 1987 to 1992, advising various quality-of-life programs within the service. Then she consulted for several Head Start and military programs, before moving in 1997 to Jacksonville, Fla., as senior program manager for the private Arthur Vining Davis Foundations. In that capacity she assessed grant applications submitted by religious seminaries and medical-educational institutions.
She retired from the Arthur Vining Davis post in 2004 and moved to Rancho Mirage, Calif., with husband Edward Brewer, whom she had met when both worked for the Navy. After 26 years of marriage, Brewer died in 2011, following a period of suffering from Alzheimers—a disease that led his spouse to become active in a Rancho Mirage Alzheimers support group.
Dr. O'Keefe moved to Gainesville in 2018 to be closer to her sons, Navy Commander (Retired) Thomas Davy and Christopher O'Keefe, and to have access to resources required for completing her book on the Navy support program.
She reveled in traveling, and recalled with particular fondness a 2015 visit to Hawaii's Kona coast for a Thanksgiving "sibling reunion" with her sister Judith Wolman, brother Roy Harris and his wife Eileen McIntyre, and Dr. O'Keefe's long-time friend Dr. Lois-ellin Datta.
In addition to Edward Brewer, she was predeceased by her brother David Meade Harris and by her former husband Earl Davy. In addition to her sons, and brother Roy and sister Judith, she is survived by her granddaughter, Katrina Weichmann, and by Dr. O'Keefe's former husband Stephen O'Keefe.