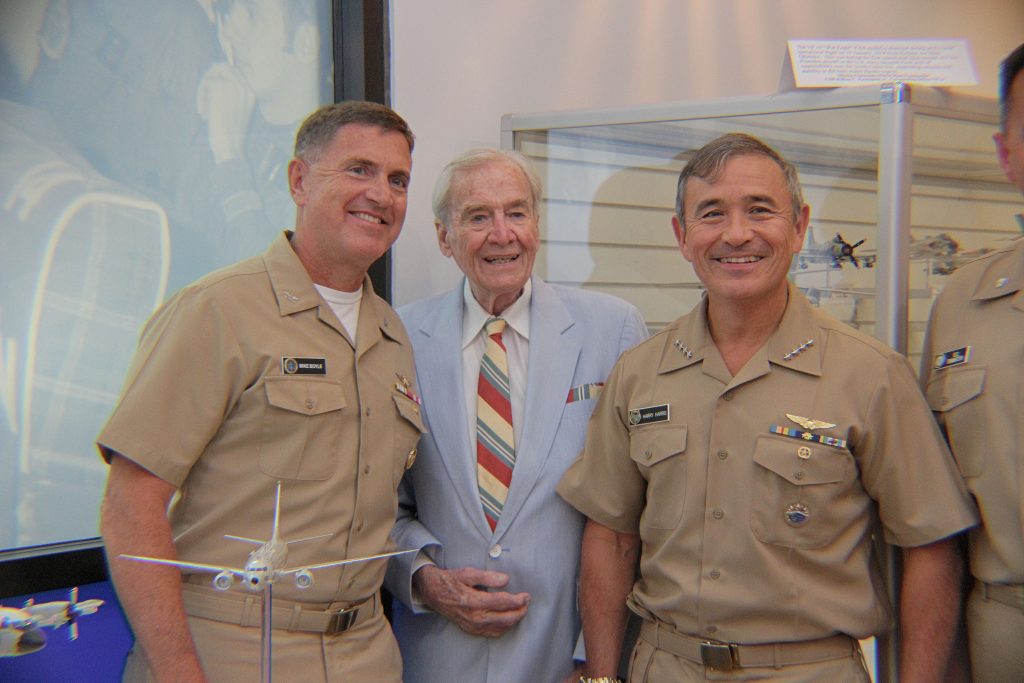 Captain Mike Boyle, Captain Ted Bronson, USN (Ret.) and Admiral Harry Harris, PACOM, stand before the newly placed P-8A Poseidon Model (NHF Photo/Matthew Eng/Released)
The Naval Historical Foundation lost a long-time friend and avid supporter with the passing of Captain Edward F. "Ted" Bronson, US Navy (Retired). The son of the late Edward J. and Rita J. Bronson, Ted was born in Havre de Grace, Maryland and grew up in Wilmington, Delaware. After earning his BS from LaSalle College in Philadelphia in 1954, he was accepted at the University of Chicago, receiving a Master of Arts degree in June 1958. He received that degree as a naval officer, having graduated from the Navy's Aviation Officer Candidate program and earning his commission on June 28, 1957.
Call Sign "Cash" Bronson served 29 years and in 1976 he became the 25th naval aviator to achieve 1,000 carrier landings. His first of seven Vietnam tours was in 1963 with the South Vietnam Air Force, transitioning T-28 pilots into AD-6 Skyraiders. His later Vietnam actions included combat tours in Attack Squadron 113 aboard USS Kitty Hawk [1966] and USS Enterprise [1967] flying the A4C Skyhawk for 236 missions over North Vietnam. Later he served as Flight Deck Officer and Handler aboard USS Oriskany for Yankee Station deployments in 1969/70/71. He returned to the Gulf of Tonkin in 1972 as the Commander, Task Force 77 Air Operations officer. After his 1976 Attack Squadron 46 Commanding Officer tour flying A-7B Corsairs from USS John F Kennedy, he reported to the Navy Office of Legislative Affairs. Chief of Legislative Affairs then Rear Admiral Tom Kilcline would state: "Bronson was more responsible than any other OPNAV person for the Congressional approval for production of the F/A-18." After a tour as the Executive Assistant to Navy Director, Command and Control, he was tasked to form Naval Space Command, Dahlgren, Virginia.
His awards include the Legion of Merit, a Bronze Star, two Single Action Air Medals, 19 Strike Flight Air Medals, a Navy Commendation Medal w/2 Gold Stars, a Navy Achievement Medal with Combat V, Presidential Unit Citation, Air Force Gallantry Cross Unit Citation for Exchange Tour with the Vietnam Air Force 514th Squadron, Air Force Outstanding Unit Award for Exchange Tour with VNAF 514th, Vietnam Service Medal with 4 Bronze Stars; the Vietnam Cross of Gallantry, and the Vietnam Armed Forces Honor Medal with Star.
After his naval service, he was Scholarship Chairman for the Washington DC chapter of AFCEA 1989-2011. In 2014 he coordinated a "Flight to Freedom" ceremony, celebrating the April 1975 Vietnamese Air Force OV-1 Bird Dog landing on USS Midway. From 2007 to 2017 he spearheaded the campaign to make known the holiness of Servant of God, Fr. Vincent Capodanno, LT, CHC, USNR, who died on the Vietnam battlefield in the 1967 USMC "Operation Swift".
From 2007 to 2017 he served as the Naval Historical Foundation's aviation representative to an advisory committee that supported the build-out of the Navy Museum's Cold War Gallery at the Washington Navy Yard. His legacy can be seen in the Cold War Gallery Ready Room which replicated the ready room of his VA-46 "Clansman" using artifacts that he donated. In addition, he coordinated the fundraising for the production of models of Cold War vintage aircraft. Furthermore, to correct a long neglected oversight, Captain Bronson initiated the awarding of Navy Astronaut Wings to Neil Armstrong in 2010.
NHF Chairman, Admiral Fallon remembers Captain Bronson as a stalwart supporter of naval history, stating, "No person was as energetic and diligent in pursuing the causes in which he believed than Ted Bronson. His perseverance and attention to detail in the naval aviation portion of the Cold War Gallery brought it to fruition almost singlehandedly. I am pleased that we were able to honor Ted as an early recipient of the NHF volunteer of the year award. May his soul rest in peace."
---