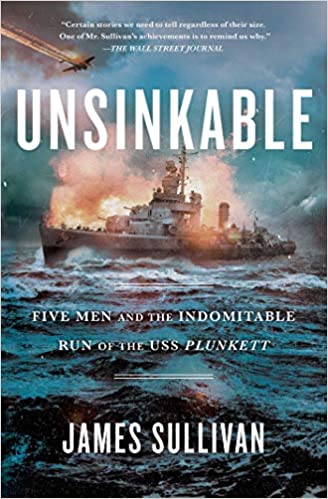 Reviewed by Lt. Col. Andrew D. Dausman, USMCR
In Unsinkable, James Sullivan delivers a comprehensive account of USS Plunkett during World War II (WWII). A Gleaves-class destroyer, Plunkett saw action in North Africa, Sicily, Salerno, Anzio, Omaha Beach, and the Allied invasion of Southern France. According to Sullivan, Plunkett is one of the few, perhaps only, warships to fight in every Navy-supported European invasion during WWII. While Sullivan is a seasoned writer for the New York Times and National Geographic Travel Magazine, Unsinkable is his first book.
Sullivan tells Plunkett's story through the wartime experiences of the ship's crew members, one of which is Sullivan's great uncle. His use of personal accounts provides a compelling lens through which to understand the intensity of WWII naval combat. Photographs of Plunkett's sailors sprinkled throughout the book add to the rich realism of individual stories within the broader narrative. Sullivan's exhaustive research for the book is made evident by several hundred endnotes citing numerous personal interviews and other primary source material, conveying the book's credibility as an authoritative wartime account of Plunkett's exploits.
Sullivan organizes the book into three parts covering pre-war activities, naval actions in the Mediterranean (Sicily and Salerno), and the latter part of the war (Anzio and Normandy). Plunkett's engagement at Anzio, where the ship weathered numerous air attacks from German bombs, is arguably the high point in Sullivan's narrative. Although Plunkett sustained significant human casualties (23 dead, 28 missing) during the fierce battle, the damage could have been much worse if not for the crew's exemplary ship handling and gunnery. The commanding officer, Captain Edward Burke, received the Navy Cross for his courage under fire and adept maneuvers during the withering German attacks.
One minor shortcoming is the lack of maps. Reading about Plunkett's battles and engagements would have been enriched by the inclusion of associated maps and battle diagrams. Naval historians, professional and amateur, will need to find outside reference materials to understand the broader military and geographic context in which the Plunkett finds itself. The book is neither a formal military history book nor merely a collection of personal wartime anecdotes. Instead, it straddles multiple genres, and its lack of maps and technical material does indicate Sullivan's effort to create a naval history with broad appeal and accessibility for a variety of readers. For this reason, the book is likely to be appreciated by both scholars and readers with only a casual interest in WWII naval history.
Sullivan deftly accomplishes several objectives in the book. He tells the story of a single WWII warship and documents the wartime experiences and post-war lives of several sailors, weaving these accounts of Plunkett and its crew into a cohesive narrative. This account of a single warship offers a window into the broader American experience in WWII and provides a colorful commentary on naval warfare and the Sailors that comprised the Greatest Generation.
---
Lt. Col. Andrew D. Dausman, USMCR is a Military Faculty member of the Joint Forces Staff College.
Unsinkable: Five Men and the Indomitable Run of the USS Plunkett (James Sullivan, Scribner, New York City, NY, 2020).