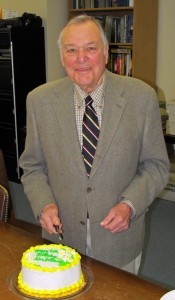 Admiral James Holloway III, USN (Ret), former Chief of Naval Operations, and Chairman Emeritus of the Naval Historical Foundation, stopped by our office yesterday on his 90th birthday. He had the chance to enjoy some birthday cake, and toured the Cold War Gallery with his son-in-law, Richard Quist. He also had the opportunity to go over plans for the new exhibit being planned for the Gallery, "Into the Lion's Den." This exhibit holds special significance for Admiral Holloway, as he was one of the central figures of this 1972 incursion into Haiphong Harbor, on board the cruiser USS Newport News. Under his leadership, the Foundation raised several million dollars to design and build exhibits in the Navy Museum related to the Navy's role in winning the Cold War. The Lion's Den exhibit is just the latest of these exhibits and stands as a testament not only to Admiral Holloway's storied naval career spanning World War II through the latter years of the Cold War, but just as importantly his commitment to preserving and commemorating our proud naval heritage.
Admiral Holloway has been a fixture at the helm of the Naval Historical Foundation for over 30 years. After his retirement from the Navy in 1978, he served as NHF President from 1980-1998, and Chairman from 1998-2008. Since then, he has served as Chairman Emeritus of the Naval Historical Foundation.
Happy birthday, Admiral!