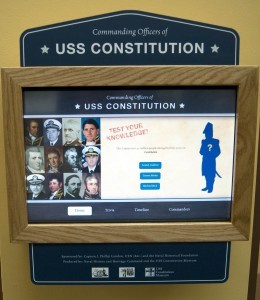 On Monday 12 March, a new interactive display was dedicated at the National Navy Museum at the Washington Navy Yard, Washington, D.C. The touch screen driven display gives museum visitors a chance to learn about the history of the commanding officers of the historic frigate USS Constitution. It was the brainchild of Dr. Jack London, Chairman of the Board of CACI International, Inc. London is a 1959 graduate of the United States Naval Academy, who served 12 years active duty as a naval aviator, and retired as a Captain from the Naval Reserve in 1983. The Constitution's first commanding officer, Captain Samuel Nicholson, also happens to be a distant relative of Dr. London.
London approached the Naval History and Heritage Command (NHHC) about pitching in to help promote this year's bicentennial of the War of 1812, and an interactive feature on Constitution's commanding officers seemed a natural byproduct of his personal connection to the very first of them. Working closely with the Naval Historical Foundation, the National Navy Museum, and the USS Constitution Museum, London helped bring the plan to fruition. His generous donation of funds through the Naval Historical Foundation enabled construction of both the physical touch screen display panel, as well as the software and content that drive the interactive. The panel was mounted on a column near the entrance to the "Forgotten Wars of the Nineteenth Century" exhibit in the National Navy Museum, with a second version planned for the USS Constitution Museum in Charlestown, MA. It features trivia, a quiz, biographies of the commanding officers, and a moving timeline. Dr. London and his wife, Dr. Jennifer London, had the opportunity to engage the interactive display.
At the conclusion of the ceremony, London was presented with a gavel and sounding board carved out of wood from the hull of USS Constitution. This artifact dates from the 1920's overhaul of Constitution, and was typical of the "Old Ironsides" related items that were sold at the time. Funds raised from these sales helped to underwrite the major renovation that returned the frigate to her 1812 seagoing appearance. The repair work culminated in a triumphant 1931-34 cruise around America's coast.
A future rollout of the interactive to the web is planned. In the meantime, the USS Constitution Museum has a full list of the ship's commanding officers on their website.