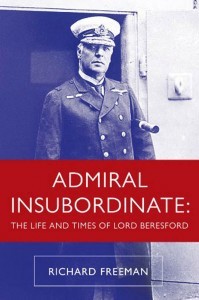 By Richard Freeman, Self-Published, Great Britain, (2012)
Reviewed by Nathan Albright
Richard Freeman is a historian of several (mostly self-published) books, including The Great Edwardian Naval Feud, Britain's Greatest Naval Battle, and A Close Run Thing: the Navy and the Falklands War. It is clear that much of the research for this book flowed out the author's previous research in the Edwardian British navy, of which Lord Beresford was a noisy figure.
The author demonstrates that feuding with authorities and rivals for position was a longtime aspect of the life of Lord Charles Beresford. The combination of great wealth and powerful political connections (including nearly two decades spent as an elected Member of the British Parliament for Marylebone, York, and Portsmouth), factored in Beresford's ability to sustain himself as an actor during this era. Organized chronologically with 220 pages spread into 32 chapters, the book shows how the strengths of Lord Beresford as a courageous leader with a strong interest in the well-being of common sailors were sabotaged by his immense hostility to others and his tendency to feud. Freeman concludes: "It was this petty and vindictive side that denied Beresford the greatness that could have been his. His legacy was and remains notoriety."
Sadly, despite a lengthy involvement as a naval officer and politician, Lord Beresford is not well known on this side of the Atlantic. The author does yeoman's labor in demonstrating both the bravery as well as the vanity and futility of Lord Beresford's career, including numerous scandals resulting from his inability to restrain himself in his professional or personal life. The incidents and people in the life of Lord Beresford will be very familiar to the book's intended audience in Great Britain. Americans readers, to place the book in proper context, should be familiar with the British royal family, Winston Churchill, and Admiral John A. Fisher, as some of the more significant enemies of Lord Beresford. Ethnicity played a surprisingly important role in Lord Beresford's life, both in his hostility towards foreigners during World War I as well as his own identity as an Ulster Protestant whose loyalty to Ulster ultimately trumped his loyalty to England.
This is a well-researched book about a fascinating (if somewhat frustrating) historical subject. The author does a good job in showing the virtues and character flaws of Lord Beresford, spending most of his time focusing on political feuds and only a short amount of time focusing on the personal scandals of his life, including only short and oblique references to a scandal involving an illegitimate child that threatened the reputation of the future King Edward VII that led to their estrangement. The book is well-written and formatted, given the fact that it is a self-published work, and it merits a wide reading audience for those who are interested in the naval history of the late 1800's and early 1900's, including World War I. This book is especially rewarding for those whose historical interests straddle political and military history. In that light, it is surprising that these books were self-published at all, given the sizable potential audience of Freeman's work.
Nathan Albright is a writer and engineer in Portland, Oregon.