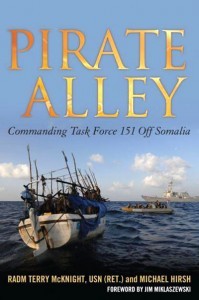 By Rear Adm. Terry McKnight, USN (Ret.) and Michael Hirsh, Naval Institute Press, Annapolis, MD. (2012)
Reviewed By Nathan Albright
Retired Rear Admiral Terry McKnight and Michael Hirsh have written a book about Somali piracy that is both of topical interest and designed to provide a lasting influence on future policy for the United States, that is both intensely personal as well as wide-ranging in its examination, and that manages to be a thorough account of one man's time commanding in a volatile region of the world as well as short and easy-to-read. Anyone who has an interest in naval policy, is concerned about logistics and shipping worldwide, or has an interest in the rise of China and India or of armed merchantmen and the potential for mercenary activity in dangerous waters, or wants to be cured of the romance of piracy in the modern world should read this most excellent book. Fortunately, the skill of the authors and the seriousness of the subject, as well as the gripping nature of the book's contents and its many varied and detailed accounts, should ensure a wide and appreciative audience.
There are few books dealing with this subject, but fortunately there are a couple of other books that deserve mention (and reading) as well for the reader to better understand the vexing issue of Somali piracy, both written by Brit Martin Murphy: Somalia: The New Barbary? Piracy and Islam in the Horn of Africa, and Small Boats, Weak States, Dirty Money: Piracy and Maritime Terrorism in the Modern World. Where Pirate Alley best succeeds is in combining gripping adventure novel-like accounts of fighting piracy with "organic" and "inorganic" elements (and the frustration of having to release most of these pirates because of the lack of logistical capability and moral will to punish them effectively in many cases). The book also provides insights how fighting piracy is hindered by debt, a lack of interest in the Treasury Department of fighting the funding of piracy, and the growing decline of naval power around the world. The account pulls no punches and spares no institutions from their just criticism, but it is also generous with praise where praise is due.
This book is short, at just over 200 pages of written text, but within its pages it manages to tell a well-defined but broad story of one man's brief but exciting work in hindering piracy in a dangerous and important area of the world, and in giving grudging credit to the cleverness of his untrained but canny pirate adversaries. Each of the 13 chapters of the books deals with a well-contained subject within the larger issue of piracy in the Indian Ocean, including the rules of engagement for the US Navy (and other navies), personal accounts of dealing with piracy, an introduction to piracy, an examination of the best practices of shippers against pirates (including a lengthy and nuanced examination of the question of whether merchant ships should have armed guards), the lack of enforcement and punishment of pirates, three chapters of the attack on the Maersk Alabama and the rescue of its American captain, diplomatic efforts with the Russian and Chinese fleets, as well as closing chapters about useful strategies and tactics against pirates and specific policy recommendations.
In addition, this book is full of personal insight, wry humor, gripping prose, and sound analysis. McKnight and Hirsh have done yeoman's work in writing about a complicated and neglected aspect of contemporary affairs to the attention of the public, and have made it possible for readers to recognize that anyone who talks about the problem of differentiating between Somali pirates and fisherman does not know what they are talking about by its pointed analysis of the Somali view of the sea. The combination of brevity as well as striking detail makes this book enjoyable for an audience that includes naval history buffs as well as people interested in questions of logistics, trade, and naval policies, and this book deserves to be read and pondered by that wide audience.
Nathan Albright is a writer and civil engineer in Portland, Oregon.