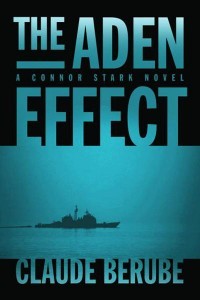 By Claude Berube, Naval Institute Press, Annapolis, MD. (2012).
Reviewed By Nathan Albright
The Aden Effect is the first novel by Claude Berube, whose varied career has so far taken him into teaching at the Naval Academy, serving in the Persian Gulf, as well as stints in Naval Intelligence and Capitol Hill.  He uses this knowledge well in constructing a tight and action-packed narrative that brings together a balanced and well-drawn set of characters together in matters that connect Somali piracy and instability in Yemen with the drug trade, China's efforts to become a hegemonic power (and India's efforts to compete with China over control of the Indian Ocean) as well as political corruption in the United States and the concern over retrenchment of the armed forces leading to a rise in private military contractors.  While such serious topics could have been clumsily handled by a less skilled writer, Berube manages to use local color and intellectual seriousness to give depth to this excellent novel without sacrificing its fast pace and dramatic plotting.
Organized in a chronological fashion and marked by a keen sense of linguistic detail, an elegant writing style that does not waste words, and a touch for compelling quirks of character (like Diplomatic Service agent Damien Golzari's struggle with racism as an Iranian-born and British-educated American with a fastidious taste in dress), this is a thinking person's action novel.  If one is a fan of Robert Ludlum's work (The Ambler Warning, which this book shares many connections to, as well as the Bourne series) or Tom Clancy, this is a novel you will treasure for its humor, its wit, its dramatic action, and its compelling protagonists, as well as for the way it deals with political and geopolitical concerns with panache and spirit.  The author shows a case where cynical world-weary soldiers and idealistic public servants find common cause to skirt the rules when it is necessary to serve the well-being of people of all nations and serve the best interests of their own nation as well.
Though the novel is being labeled as a Connor Stark novel, presumably as the first of a planned series of novels, this is more of a buddy-cop story with equal time given to Connor Stark, expat patriot, and Damien Golzari, cosmopolitan naturalized citizen, whose nearly disastrous initial meetings translate into a grudging and wholehearted spirit of brotherly competition.  This novel whets the appetite of the reader for more (coming in at a slim 260 pages of compelling narrative), would make a gorgeous and compelling movie in the right hands, and is hopefully the first of a series of novels dealing with both Stark and Golzari.  Hopefully future novels will show both Stark and Golzari working together, or prequels showing their complicated history, as well as cameos (or large roles) from compelling characters like C.J. Summer as well. As a thoughtful and well-written novel from someone who clearly knows the way of the world, political and geopolitical concerns, and elegant prose, this work deserves a large and appreciative reading audience.
Nathan Albright is a writer and civil engineer in Portland, Oregon.