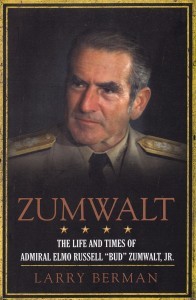 By Larry Berman, Harper Collins, New York, NY (2013).
Reviewed by Stephen Phillips
Depending on one's perspective, Admiral Elmo "Bud" Zumwalt is famous or infamous for transforming the U.S. Navy during the Vietnam War era. His name is synonymous with long hair, beards, and social reform through "Z-Grams" – messages to the fleet that served as the Chief of Naval Operations' (CNO) vehicle to revolutionize the naval service with executive order-like power.
For insight into the service of the Navy's youngest CNO, one should read Larry Berman's Zumwalt: The Life and Times of Admiral Elmo Russell "Bud" Zumwalt, Jr. Berman's book is thorough, a result of numerous interviews and countless hours of archival research. Intimate details clearly required discussions with those close to and trusted by the Zumwalt clan. Thus, Zumwalt does point to the Admirals' controversies, but emerges sympathetic…like an authorized biography.
Such access of course does have its advantages. Readers will be introduced into much about the admiral's life that is not widely known. For example, Zumwalt focused on speech and debate while at the U.S. Naval Academy, developing a skill that served him well thereafter. He married shortly after graduation, but it ended quickly due to his spouse's infidelity. During World War II, Zumwalt earned a bronze star in the Battle of Leyte Gulf. Finally, Berman reports that Zumwalt's mother was Jewish and therefore asserts that he, not Admiral Jeremy Boorda, was the first Jewish CNO.
Since he was a public figure, Zumwalt also covers aspects of the admiral's career that are well known, but provides insights that emerged through Berman's research. These sections will be most interesting to fans of naval history.
Naturally, various patrons influenced Zumwalt's rise. It started when he served at the Bureau of Naval Personnel (BUPERS). Zumwalt led a team that revitalized shore assignments, opening many general duty billets previously coded for specific rates. After briefing Vice Admiral James Holloway, he presented his findings to the assistant secretary of defense (ASECDEF). Holloway mentored him thereafter and Zumwalt never ceased to impress. That he was a rising star (pun intended) was first widely evident when he promoted to captain a year ahead of his peers. His upward movement accelerated while Zumwalt was a student at the National War College. A paper he wrote on Soviet succession garnered so much attention from his instructors, that when Paul Nitze, ASECDEF for International Security Affairs (ISA) spoke at the college, faculty queried him about Zumwalt's paper rather than his own talk. Nitze had Zumwalt ordered to ISA upon graduation where he became Director of the ISA's Arms Control Division and an advisor for Sino-Soviet affairs. As a result, Zumwalt was part of the executive committee that advised the White House during the Cuban Missile Crisis.
Not surprising, Berman devotes much to Zumwalt's time as CNO. It is clear that the Navy needed reform. Zumwalt took bold, unpopular, but necessary steps needed to modernize the naval service socially. That the Navy endured some disciplinary problems as a result was likely unavoidable, and one can recognize that in some cases, the admiral went too far. Still, if one is to make omelets…
A final note is that clearly, that the CNO is a political creature. Thus, any such biography is sure to include details of political intrigue. But, in the case of Berman's story it seems there is much ado about nothing to do with Zumwalt. Instead the reader is treated to the completely contrived Nixonian White House intrigue led by Henry Kissenger and, Alexander Haig. Zumwalt's approach seems to be what is expected…to impress upon Navy staffers to feed him information and stay out of the fray. Through this part of the book, it feels like Zumwalt is no longer the manuscript's main subject.
Berman's book is a recommended read for those interested in naval history. There is much to reflect on in the life and times of this, the youngest Chief of Naval Operations' career, to derive lessons learned and better understand our Navy today.
Stephen Phillips served in the U.S. Navy as a surface warfare officer and Explosive Ordnance Disposal Technician. He is the author of The Recipient's Son, a novel about the U.S. Naval Academy published by the Naval Institute Press.