By John Grady
The Navy was more successful in its campaigns like Port Royal, S.C. and New Orleans than the Army during the American Civil War particularly in the Virginia Theater.  According to Pulitzer Prize-winning author James McPherson, it was "partially due to the professionalism of Navy leadership in high positions."  Dr. McPherson answered these and other questions on 4 January during a speaking engagement at the Society for Military History George C. Marshall lecture series in Washington, D.C.
James McPherson discusses the role of naval operations in the war in his most recent work, War on the Waters: The Union & Confederate Navies, 1861-1865.  Concerning his talk, he argued that "determined commanders can make [some of] their own luck," as Ulysses S. Grant and David G. Farragut did at Vicksburg and Mobile Bay, respectively.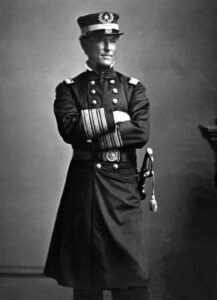 Both Grant and Farragut shared the "moral courage to take risks and accept failure." Citing Farragut's decision to press forward at Mobile Bay after his lead ship Tecumseh struck a mine and sank, while Brooklyn, second in formation, veered off course and stopped.  It was at this point that Farragut could have said, "Damn the torpedoes!"  He added that Mobile Bay "was the first unequivocal Union victory of 1864," followed by Maj. Gen. William T. Sherman's takeover of Atlanta and Brig. Gen. Philip Sheridan's burning of Virginia's Shenandoah Valley.  McPherson stated that these three victories secured Lincoln's re-election and the Union's determination to win the war.
Farragut knew all too well about the willingness to accept failure and take risks.  Farragut spent sixty of his sixty-nine years in the Navy.  Despite this, his loyalty came into question at the beginning of the war.  According to McPherson, he "was the opposite" of Flag Officer Samuel F. Du Pont.  At Charleston, Du Pont found himself constantly at odds with Navy Secretary Gideon Welles and Assistant Navy Secretary Gustavus V. Fox over the practicality of taking the South Carolina port "in an all Navy affair."  He wanted to do as he did at Port Royal earlier in the war.  He would be backed up this time by the latest class of ironclad Monitors and a specially constructed frigate, New Ironsides, to run the harbor's ring of batteries, forts, and waters filled with mines and deadly obstructions.dup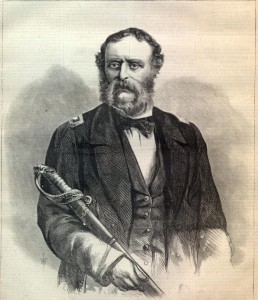 To Lincoln, Welles, and Fox, Du Pont's pessimism about the ability "to beat our Southern friend and beat the Army" in subduing Charleston sounded more and more like the letters sent by Maj. Gen. George B. McClellan's explaining why the Army of the Potomac failed to move against the Confederates after success at Antietam.
Du Pont, who spent 45 years in the Navy and served on the Blockade Strategy Board in the beginning of the war, told Fox to "think cooly."  "There's no running the gauntlet of forts like [Farragut did] at New Orleans" as he pressed repeatedly for a combined Army-Navy operation with the soldiers taking the batteries and forts with supporting fire coming from the Union fleet in covering their attacks.
McPherson felt that Farragut believed he would "have found a way" to carry out the attack that the president and civilian Navy leadership wanted. When Du Pont finally attacked, his fleet of ironclads managed to get off 151 shots while the Confederates, having set up range finders all around the harbor, fired 2,209 rounds.  Over five hundred of those struck Union ships, sinking the ironclad Keokuk in the process.  After a council of war with his ship commanders, Du Pont, who originally considered pursuing the assault the next day, "decided not to pursue the attack."  Quoting from Welles' diary said, McPherson said that Du Pont "had a reputation to protect not to make," and like McClellan that sealed his fate.  Despite his good family name and pedigree, Du Pont was removed from command. He left his position as "a bitter and broken man unwilling to take risk."
In the public's mind and the administration's, the Navy "was expected to do the heavy work" in the taking of New Orleans, as it had at Port Royal.  Later successes, even Mobile Bay, were given little public recognition at the time, an oversight that is changing now.
Gideon Welles was also a risk taker.  He did not adhere to the Navy's reliance on seniority to promote commanders, McPherson said.  With Farragut, he found a commander who would take those risks.  When Virginia seceded, he "stood by the flag" despite his local connections.  Before leaving for New York in the spring of 1861, Farragut presciently warned his friends and in-laws in Norfolk:  "you fellows will catch the devil for this business."  Welles was not so lucky with Du Pont and Charleston. He wrote in his diary, "If anything is to be done, we must have a new commander."  He tapped the president's naval confidante, Flag Officer John A. Dahlgren, for the position.  Dahlgren would fare little better than Du Pont at the seat of secession.
John Grady is a veteran military affairs correspondent and NHF volunteer oral historian.  He also writes for the Civil War Navy Sesquicentennial.