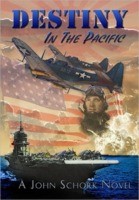 By John Schork, Jupiter-Pixel Press, Jupiter, FL (2008)
Reviewed by Paul W. Murphey, Ph.D., CDR, CHC, USN (Retired)
I was utterly surprised by this novel of naval aviation in the Pacific during World War II. It was a radical departure from the way I knew the author to approach any task. His creativity astounded me. It presented an imaginative approach I never saw in him when we were shipmates. Its author, Retired Navy Captain John Schork, was Executive Officer of USS Midway (CV 41) during Desert Storm. I was the Command Chaplain at the time. Meticulous and thorough in everything he undertook, Schork would accept nothing less than the best from himself or anyone else. In writing this novel, he was characteristically thorough and meticulous in the research necessary for giving the book authenticity. He is a master of accurate and vivid description. The surprise for me was in his insightful portrayal of human, particularly romantic, relationships.
Captain Schork retired from the Navy after serving as Commanding Officer of Naval Air Station, Whidbey Island, WA and settled in the beautiful Pacific Northwest where he became a successful stock broker/financial advisor. My knowledge of and experience with him aboard the Midway had not prepared me for this incredible work of creative writing.
This is the most gripping novel about World War II I have read. It is hard to believe that it is a work of fiction. The characters are vividly portrayed. The situations are graphically intense. The information needed to give it plausibility is well-grounded in fact. If taken all together it appears over the top but that does not detract from the thrill and excitement of following the exploits of Bryan Michaels, from an inauspicious start to a well-deserved ending with all the plaudits and honors of a marvelously admirable hero.
Destiny in the Pacific packs so much heroic action into one naval aviator's life that it strains the bounds of credulity. It is hard to imagine one young daring pilot disgraced and disqualified from flying then later restored by no less a towering figure than Admiral Chester Nimitz. He then fights valiantly at the Battle of Coral Sea and lives to distinguish himself for his service at the Battle of Midway. When an injury to his eye sustained in that battle disqualified him from further service as a pilot, he becomes the heroic skipper of a PT Boat leading a small group of men in a daring rescue of a Navy cryptologist lest the top secret information he has fall into the hands of the enemy. It so happens that Liz, the Navy nurse whom Bryan loves, was also on the downed plane. They had gone down in a PBY off a small South Pacific Island and were held by the Japanese. After their rescue, Bryan is taken to Australia where none other than General Douglas McArthur has a chat with him about his exploits and assigns him to a joint Australian-American clandestine operation.
Now for the fourth time, he comes out the hero. He is personally decorated with a Silver Star and Navy Cross by General McArthur, while Liz and Bryan's father, Rear Admiral Chuck Michaels, looks proudly on. At the end of the book, now Rear Admiral Bryan Michaels looks back with deep gratitude at the friends he has known and lost.
Destiny in the Pacific is a remarkably well-crafted story dedicated "to the greatest generation" particularly those who turned appalling defeat at Pearl Harbor into overwhelming victory. The author devotes particular attention to expressing appreciation for the role Australian military forces played in achieving that victory over Japan.
The horrors, brutality, and cruelty of war are viscerally depicted. Death of shipmates is poignantly portrayed and remembered. There are character developments and sub-plots which keep a reader anticipating their further treatment. Personal relationships and romantic involvements are genuinely, honestly, and tenderly expressed. As they used to say, "he completely blew my socks off." I had not seen that dimension of him before.
Anyone wanting a captivating story of an All-American hero needs look no further than Destiny in the Pacific. I am thoroughly in awe of John Schork's creative genius and look forward to further works from this exceptionally gifted (and disciplined) author.

After over 15 years on active duty, Murphey has retired to the Pacific Northwest.