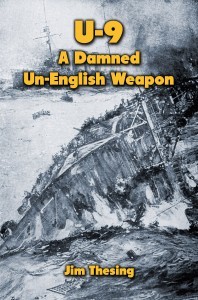 By Jim Thesing, Merriam Press, Bennington, VT (2013)
Reviewed by Charles Bogart
The author has crafted a wonderful fictional account of the German U-boat arm during the period between July and August 1914. The climactic moment within the book is the sinking of the three old Royal Navy cruisers, HMS Aboukir, HMS Cressy, and HMS Hogue, by the German submarine SMS U-9. The story is told through the thoughts and deeds of both German and British naval officers and their families and gives the reader a feel for the attitudes of the day as Europe first drifts into World War I and then becomes engaged in warfare at sea. Readers should peruse Alan Coles' Three Before Breakfast before reading this book to fully understand the drama that is presented within the pages of this work of fiction.
The main portion of this fictional account is told through the eyes of four individuals:  two Royal Navy men, Lt. Henry Fischer assigned to Hogue, and Roger Barnes, an engine room artificer onboard Cressy, and two German naval officers, Kapitanleutant Otto Weddigen, commanding officer of U-9, and his Executive Officer, Oberleutnant Johannes Spiess. Winston Churchill, Captain Roger Keyes, Kaiser Wilhelm II, and Admiral Frederick Von Ingenohl make cameo appearances in the story. The people portrayed within the book are real and express realistic human emotions. While some of the individuals within the book's narrative survive this naval battle, all are scarred emotionally by what they have experienced.
While the story of the sinking of the three cruisers is well told from the point of view of the two German officers, it is far less satisfactory in narrating the events from the British side. With the Germans, we follow the command thought process as U-9 launches three separate attacks that sink the three cruisers. We then follow U-9 as it makes its journey home, the reception the men receive (all awarded an iron cross), and the post traumatic effects of the attack on the two German officers. The Royal Navy side, while interesting, is lacking in that it concerns two men not involved in the decision making process that led to this naval disaster. The two individuals and their families only react to what is happening around them. Thus, we do not share in the thought process of the three Royal Navy commanding officers as to their reasons for placing their ships in danger nor why they took no remedial actions to lessen their vulnerability.
Overall, the book gives good insight into the naval mentality of the day. Those interested in U-boat warfare or naval action at sea will enjoy this book. However, to fully enjoy this book, readers need a basic understanding of the Royal Navy and the Kaiserliche Marine as it existed in 1914.

Charles H. Bogart