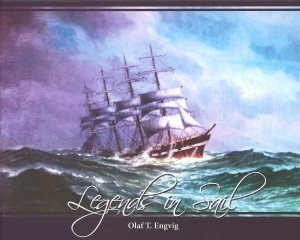 By Olaf T. Engvig, Themo Publishing, Los Angeles, CA (2013)
Reviewed by Mark Lardas
Norway has a long maritime tradition. While it is still among the world's major shipping nations, it used sailing vessels much later than the rest of the world. Regardless, much of its recent maritime heritage is largely unknown outside Norway. Part of the problem is a dearth of English-language works on the subject. Primary sources are mainly in Norwegian, a language spoken by approximately six million people with relatively few scholars. Legends in Sail, by Olaf T. Engvig, attempts to correct this lapse. Written by a Norwegian maritime historian, the book was published in both English and native language editions. The book's introductory chapter presents Norwegian maritime history from the Viking era to the present.
It then dives into the heart of the story:  biographies of nine noteworthy Norwegian sailing vessels. Three were Arctic exploration ships: Gjøa, Fram, and Maud. Four were sail training vessels: Statsraad Erichsen, Christiana, Transatlantic, and Christian Radich. Two were sailing cargo ships: Lancing and Lindgard. These ships were launched between 1858 and 1937. Engvig spends a chapter on the history of each ship, its significance, and its fate. Engvig provides an outstanding collection of black and white photographs, color photographs, paintings, and drawings to illustrate each chapter.
Although he is no Joseph Conrad, Engvig's English version is clear, albeit a tad stolid. His facts are solid, and the story is engaging. The events related are stirring, yet there is a bleak similarity in many of the tales. Outstanding achievements during the dying days of sail are followed by obsolescence, neglect, and oblivion. Only three of the ships presented still exist. Only Christian Radich still sails. Gjøa and Fram are museum ships housed ashore. Maud was wrecked. The remaining were scrapped, including one ship restored by supporters and donated to a museum for preservation only to be sold for scrap immediately afterwards.
Engvig's book reveals how much of Norway's sail heritage (and the poor preservation of its heritage) was due to Norwegian poverty before petroleum dollars converted Norway from Europe's poorest nation to its richest. Norway's men became sailors because of limited opportunities ashore. Norway continued operating sailing vessels after most others went to steam because sailing ships were cheaper to buy and operate. Norway continued sail training because it needed sailors to man these remaining sailing ships. Ultimately, poverty led to the lack of preservation of the sailing ships. None of this detracts from the majesty of the sailing ship or the accomplishments of Norway's merchant marine. Engvig tells a direct tale of the end of the sailing era, one those interested in that subject will want to read.
Purchase Legends in Sail HERE.
Mark Lardas, an engineer, freelance writer, amateur historian and model-maker, lives in League City. His website is marklardas.com.