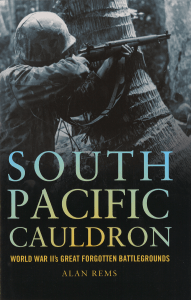 By Alan Rems, Naval Institute Press, Annapolis, MD (2014)
Reviewed by John R. Satterfield, DBA
Although an amateur historian, author Rems has produced a very professional volume.  His book is the only recent one-volume account of World War II's Southwest Pacific Theater that treats its numerous campaigns, both comprehensively and chronologically. This is valuable for general readers who focus on Guadalcanal, Marine Corps operations, and naval engagements. As the first Pacific offensive, Guadalcanal deserves attention. Guadalcanal was the opening link in a long and brutal chain of difficult amphibious operations and island battles fought bitterly until war's end.
In fewer than 250 pages, Rems summarizes the theater's activities from the January 1942 Japanese capture of Rabaul harbor on New Britain to that garrison's capitulation in September 1945 after Japan's surrender. He cannot consequently provide the voluminous detail of campaign accounts seen in Richard Frank's Guadalcanal: The Definitive Account of the Landmark Battle (1990).  Nevertheless, the author offers enough material to paint a compelling picture of action in an area encompassing the Philippines, Dutch East Indies (except Sumatra), Borneo, Australia, New Guinea, the Bismarck Archipelago, and the western Solomon Islands. Counting the Philippine defense in 1941-42, the Allies conducted twelve campaigns and twenty-one major battles on land, sea, and air in this region. This covered more than 11 million square miles of some of the most forbidding climate and terrain ever encountered by man.
Rems' study rests on thorough reviews of theater records and archives, including U.S. Army, Army Air Forces, Navy and Marine Corps histories. He also uses sources from the Australian and New Zealand Armies and the Royal Australian and Royal New Zealand Air Forces and Navies.  His bibliography lists numerous campaign and unit histories, memoirs, biographies and other topical books, online sources, and periodicals.  From these references, he has gleaned the pertinent facts to build his narrative and include his own assessments of the strategic and tactical decisions of leaders and the actions of units and the heroism of many individuals whose names are unjustly forgotten today.  Suffice it to say, the American and Allied soldiers, sailors, Marines, and airmen, including such units as the Fiji Infantry Regiment and Papuan and New Guinea Infantry Battalions (Fijian and New Guinea troops fought throughout the theater) and other indigenous irregular forces, displayed exceptional courage, valor, and tenacity throughout the war. The book is filled with the exploits of troops who routinely sacrificed their lives; their families compensated with Medals of Honor or Victoria Crosses when relatives would gladly have relinquished such recognition to have them back safely home.
Rem also discloses interesting facts about military leaders and campaigns that adds texture to his history. These episodes include the suicide of MajGen Charles D. Barrett, originally listed as an accidental death, after his commander, ADM William F. Halsey, decided to relieve him as commander of the 1st Marine Amphibious Corps (IMAC).
Another often ignored issue is the combat testing and racially biased assessment of African American troops from the segregated 93rd Division that fought Japanese forces on Bougainville. While these troops performed unevenly at best, they were not significantly worse than other white units new to battle. The War Department decided, despite mitigating evidence from the field, to remove many black troops from combat and to place those who remained under the authority of white officers.  This and other injustices led to desegregation of the U.S. Armed Forces in 1948.
Finally (and most importantly), Rems devotes the book's last four chapters to the needless fighting on Bougainville and New Britain that occurred long after the war had passed on.  The great Japanese base at Rabaul was bypassed, isolated and rendered impotent by 1944. Nevertheless, theater commander Douglas MacArthur assigned Australian Forces to these areas with orders to neutralize still large and capable Japanese garrisons even though previously assigned American troops had essentially declared a truce to avoid casualties.  The Australian commander, Thomas W. Blamey, an arrogant, irascible and politically well-connected soldier who quickly promoted to general in World War I, ordered aggressive attacks against the Japanese even though these actions had no strategic impact on the Pacific war. One Australian historian suggests that everyone understood the combat was "futile and unnecessary." The unpopular Blamey was relieved after the Japanese surrender but promoted ceremonially to Field Marshall, the first and only Australian to attain that rank, a year before he died.  The cost of Blamey's directive was casualties — 569 dead Australian troops in combat, 21 noncombat deaths and 1,712 wounded on Bougainville and New Britain. Japan lost more than 8.700 troops in battle, with nearly 10,000 to other causes in this campaign.

Overall, Rems has produced an admirable book, a nicely rendered introduction and summary of the South Pacific theater of World War II that gives the combatants a measure of recognition they richly deserve.
Dr.  Satterfield teaches military history and served as a naval intelligence officer.