By George Stewart
(This is the fourth and final installment in a series of blog posts covering the various operations conducted in Maine during WWII. Click to read Parts I, II, and III of George Stewart's blog series about Casco Bay during WWII. To read all other post by George, go HERE.) 
PART IV
This post is a continuation of the description of historical naval events that occurred in Casco Bay, Maine, during World War II. It includes a discussion of the postwar events that occurred in the bay between 1946 and 1947, plus photos of some of the historic ships that visited the bay during the war years.
The map of the area showing the basic geography and the major coastal defense facilities that appeared in Part I is repeated here for clarity. In general, the major afloat facilities including mooring, buoys, and anchorages were located on Long and Chebeague Islands with access to the open ocean by way of the gate in the anti-submarine net located in Hussey Sound, between Peaks and Long Island. Access to naval support activities in Portland was all by watercraft with trips up to approximately three to six miles. Downtown Portland also served as a "liberty port" for sailors whose ships were moored or anchored in the bay.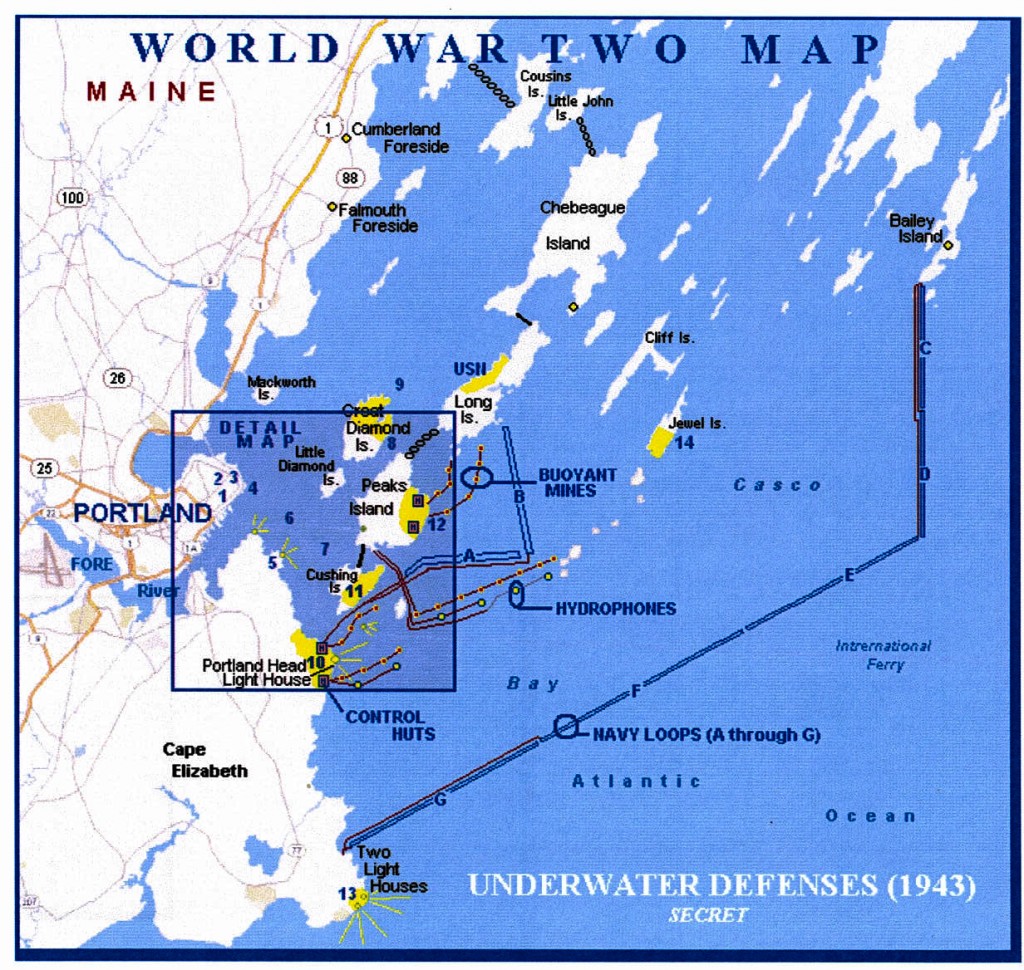 There are few records that cover the immediate postwar period in the bay. When the war ended, a rapid de-mobilization took place. Many ships that served during the war were decommissioned, although a significant number of these would return to service for the Korean War in 1951. Additionally, many of the ships that served in the Atlantic were transferred to the Pacific in 1945. By December 27, 1945, DESLANT consisted almost entirely of new Sumner and Gearing class destroyers, many of which were commissioned too late for significant wartime service. By this time, most shakedown and refresher training for East Coast-built ships was being conducted at Guantanamo Bay, Cuba, where it would remain up into the 1990s.
The U.S. Navy considered making further use of the bay after the war. The bay had a number of disadvantages due to its remote location, the lack of suitable docking facilities, weather, and other concerns. There were naval shore side facilities in Portland, but waterfront facilities for mooring ships were very limited due to lack of space. During the war, ships were required to anchor or moor out in the bay. This made it necessary to provide transportation to and from Portland by ferryboats, often under rather unpleasant circumstances (as shown in the following illustration below):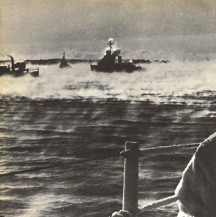 Although Narragansett Bay had some of the same disadvantages, they essentially went away after the destroyer piers in Coddington Cove at Newport were completed. In retrospect, the disestablishment of the facilities in Casco Bay was probably the proper move.
In 1946, the Navy directed the Long Island Fuel Annex to be utilized for emergency refueling only. In 1962, it was placed in a caretaker status. Finally, in 1967, it was declared surplus and sold.
A total of 770 ships are on record as visiting Casco Bay between January 1941 and 1 January 1947. Destroyers and destroyer escorts comprised 480 of these ships. An additional 140 ships could have visited the bay during the aforementioned period, although it is not specifically stated in their histories. A total of 46 ships on the list were later wartime losses. Some historically significant ships that visited the bay during the war years are discussed in the following paragraphs.
BATTLESHIPS – A total of 15 battleships appear on the database. Five are still in existence as museum ships.
USS Texas (BB 35) – Museum ship in San Jacinto, Texas.
USS North Carolina (BB 55) – Museum ship in Wilmington, North Carolina.
USS Massachusetts (BB 59) – Museum ship in Fall River, Massachusetts.
USS Iowa (BB61) – Museum ship in San Pedro, California.
USS New Jersey (BB 62) – Museum ship at Camden, New Jersey.
USS Iowa (BB 61) visited Casco Bay for operational training in 1943. During that period, the ship ran aground when passing through Hussey Sound between Peaks and Long Island. Later that year, she carried President Roosevelt to and from a conference in Teheran. In 1944, the ship was transferred to the Pacific. Iowa saw active service in the Atlantic from 1984-1990. During that period, she suffered a major explosion in Turret #2 with the loss of forty-nine lives. Iowa is now serving as a museum ship in San Pedro, California. 
CARRIERS – Since the bulk of the action involving carriers occurred in the Pacific during the war, only three carriers are on record as having visited Casco Bay. An additional five escort carriers (CVE) appear in the database.
USS Ranger (CV 4) – First ship designed from keel up as a carrier.
USS Yorktown (CV 5) – Sunk in Pacific in 1942.
USS Wasp (CV 7) – Sunk in Pacific in 1942.
USS Ranger (CV 4) was the first ship designed from the keel up as a carrier. She entered service in 1934. It visited Casco Bay in 1941 as part of the Neutrality Patrol. Ranger returned in 1943 prior to supporting the invasion of North Africa. For much of the war, this was the only large carrier assigned to the Atlantic Fleet. Ranger was transferred to the Pacific in 1944.
CRUISERS – A total of twenty-two cruisers appear in the database.
USS Augusta (CL 31) – Carried FDR to meeting with Churchill at Placentia Bay for signing of Atlantic Charter in 1941.
USS Juneau (CL 52) – Sunk in the Pacific in 1942.
USS Juneau (CL 52) performed training exercises in Casco Bay shortly after entering service in 1942 after which it was transferred to the Pacific shortly thereafter. A torpedo off Guadalcanal sank her on 13 November 1942. This was the famed ship that the five Sullivan brothers served aboard. All were lost at sea. This incident resulted in modifications to the military "Sole Survivor" policy to prevent a reoccurrence.
DESTROYERS – A total of 263 destroyers are listed in the database. Of these, forty-seven 47 were "Four Pipers" (also referred to as "Flush Deckers") of the Wickes and Clemson classes. These ships were carryovers from the World War I era having entered service right after the end of the war. The largest single group was the destroyers built between 1934 and 1942, with 116 ships encompassing ten different classes on the list. These ships can be recognized by their raised forecastles and in the pre-war classes, portholes in the sides. The list also includes sixty Fletcher Class ships built between 1942 and 1943 and thirty-nine Sumner and Gearing Class ships built between 1944 and 1945. These ships reverted to the "Flush Deck" configuration. Some historic ships on the list include:
USS Greer (DD 145) – Involved in first incident with U-Boat in 1941.
USS Reuben James (DD 245) – First US ship loss during war in 1941.
USS Hobson (DD 464) – Sunk in collision with USS Wasp in 1952.
USS Kearney (DD 432) – Torpedoed while on Neutrality Patrol in 1941.
USS Niblack (DD 424) – First action with a U-Boat in 1941.
USS Thompson (DD 627) – Served as the setting for The Caine Mutiny.
USS Charles Ausburne (DD 570) – Flagship of famous " Little Beaver Squadron" under Capt Arleigh Burke.
USS Spence (DD 512) – Sunk in a typhoon in Pacific in 1943.
USS Gyatt (DD 712) – Converted into world's first guided missile ship in 1956.
USS Reuben James (DD 245) was a Clemson Class destroyer built in 1920. The ship served on Neutrality Patrol where she was sunk by a torpedo off Argentia on 23 October 1941 before the US entered the war. The last stop before she sank was Casco Bay. Rueben James was the first US ship loss of World War II.
USS Kearney (DD 432) was a Gleaves Class destroyer that entered service in 1940. Kearney was torpedoed while on neutrality patrol prior to outbreak of war in October 1941. She returned to duty and served as convoy escort and patrols in support of invasions of Italy and Southern France. She was sent to the Pacific in 1945.
USS Charles Ausburne (DD 570) was a Fletcher Class Destroyer built in Orange, Texas. She entered service in 1943 and underwent shakedown training in Casco Bay. Shortly thereafter, she was transferred to the Pacific and served as the flagship of the famous "Little Beaver" Squadron under future Chief of Naval Operations Arliegh Burke.
DESTROYER ESCORTS – Next to the destroyers, the destroyer escorts formed the second largest groups of ships to visit Casco Bay during the war. There are 223 ships on the list that visited the bay between 1944 and 1945. Those ships represented five different ship classes. USS Tills (DE 748) was mentioned in the first part of the blog series. It appears that virtually every East Coast built DE visited the bay for shakedown or ASW training at one time or another. The majority of these ships served in the Atlantic on convoy escort, ASW patrols, and as members of hunter-killer groups. A number of them were assigned to naval reserve training duties after the war. Some historically prominent ships that appear on the list include: 
USS Farquhar (DE 139) – Last ship to sink a U-Boat in 1945.
USS Stewart (DE 238) – Museum ship in San Jacinto, Texas.
USS Vance (DE 387) – Involved in book, The Arnheiter Affair.
USS Mason (DE 529) – First naval vessel with predominantly black crew.
USS Edward H. Allen (DE 531) – Rescued survivors from liner Andrea Doria sinking in 1956.
USS Stewart (DE 238) was built in Houston, Texas. The ship entered service in 1943. During the war, Stewart performed duties as a convoy escort and on ASW patrols in the Atlantic. It was transferred to the Pacific in 1945. The ship now serves as a museum ship in Galveston, Texas. In 2007, it was added to the National Register of Historic Places. She is mentioned in a separate blog on this website. Stewart is one of only two World War II-built destroyer escorts still in existence.
REPAIR/COMMAND SHIPS
USS Denebola (AD 12) – DESLANT flagship from 1941-1944.
USS Yosemite (AD 19) – DESLANT flagship from 1946-1969. Served until 1994.
USS Vulcan (AR 5) – First USN ship with female crewmembers in 1978.
USS Alcor (AG 34) – DESLANT flagship in 1944-1945.
USS Biscayne (AGC 18) – DESLANT flagship in early 1946.
USS Yosemite (AD 19) was a Dixie Class destroyer tender built in Tampa, Florida. The ship entered service in 1944. Yosemite was initially assigned to wartime duties in the Pacific. However, it was transferred to Casco Bay in 1946 where it assumed duties as the COMDESLANT Flagship during the period where the base was closing down. In 1947, the ship was transferred to Newport, Rhode Island where she continued to serve as the DESLANT flagship until 1969. Yosemite was to remain in active service as a destroyer tender on the East Coast and in the Mediterranean until decommissioned in 1994 after fifty years of continuous service. 
MINESWEEPERS – There are thirty-six minesweepers in the database. Most were in Casco Bay for shakedown and ASW training. Unlike their post war counterparts that were (and are) of wooden hull construction, World War II minesweepers had steel hulls.
SUBMARINES – Thirty-three submarines appear on the list. The majority were home ported in New London and provided to COMDESLANT for ASW training purposes. They were generally of obsolescent types built between 1918 and 1926. Two of them were captured Italian subs used for training purposes during the latter part of the war.
The S-25 was built in 1923 and transferred to Great Britain and later to Poland. Allied Escorts later mistakenly sank the submarine off Norway in 1942.
PATROL VESSELS – Seventeen of the thirty-eight patrol vessels that appear on the list were Tacoma Class Patrol Frigates (PF). These vessels entered service between 1944 and 1945, too late to have a significant impact on the war. Many wound up being sold to foreign navies. Others were converted yachts (PY) that were used as flagships. Some historically significant vessels on the list include:
USS Eagle (PE 56) – Sunk by U-853 off Cape Elizabeth in 1945.
USS Vixen (PG 53) – Converted yacht. Served as CINCLANTFLEET flagship in 1942-1944.
USS Zircon (PY 16) – Converted yacht. Served as CINCLANTFLEET flagship in 1944-1945.
USS Mizpah (PY 29) – Converted yacht. Served as DESLANT flagship in 1945.
The USS Eagle (PE 56) was a World War I-built patrol vessel. It was one of sixty "Eagle Boats" built under a plan initiated by Henry Ford in a shipyard on the River Rouge near Detroit, Michigan in 1918-1919. PE 56 was one of only seven of the vessels that saw service in World War II. She was torpedoed off Cape Elizabeth, right outside Portland Harbor by U-853. However, there is still some debate as to whether or not she was torpedoed or sunk by an internal explosion. 
COAST GUARD – During World War II, the Coast Guard served as an integral part of the Navy. A total of fifty-one Coast Guard vessels appear on the list. A number of these vessels had very long service lives. Two remain on display as museum ships. Note that Coast Guard light ships were taken off station during the war and used for other purposes. The list includes seven Treasury Class cutters, several of which served into the 1980s. Some historic vessels include:
USCG Ingham (WPG 35) – Museum ship in Charleston, South Carolina.
USCG Taney (WHEC 37) – Museum ship in Baltimore, Maryland.
USCG Nantucket (LV 112) – Nantucket light ship – Served as an examination ship in Portland during the war.
USCG Portland (LV 90) – Portland light ship.
USCG Duane (WPG 33) was a Treasury Class Cutter that entered service in 1936. She remained on active service until 1985. The ship is shown above in its wartime and peacetime configurations. Duane was based in Portland from 1978-1985. 
A large number of service craft were based in Casco Bay during the war in order to provide the necessary services to ships moored out in the bay.
The vessel shown above entered service as the Casco Bay Lines steamer SS Aucocisco in 1897. The ship's functions were to carry passengers and freight to the various islands in the bay. In 1942, the U.S. Navy took it over and re-named her USS Green Island (YFB 32). During WWII, she served as a ferryboat based in Portland to and from naval vessels moored or anchored out in the bay. Along with its sister vessel the Penobscot Bay steamer North Haven (YAG 12), Green Island served as a large "liberty boats". A trip down the bay covered distances up to six miles from Portland and included multiple stops, often under unpleasant weather conditions. The steamer was coal fired. After the war, Green Island was returned to Casco Bay Lines where it continued to serve under its original name of Aucocisco until 1952. I rode it to and from Peaks Island a number of times in the post war era.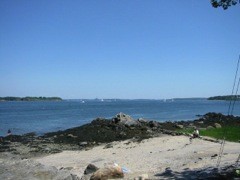 The above photo shows the area in Casco Bay where the moorings and anchorages were located at it appears today. This photo was taken from the Northern end of Peaks Island in 2005.
REFERENCES: The following references were used in preparation for the presentations delivered at museums in the Portland area in 2006 and 2009.
WEBSITES
Dictionary of American Naval Fighting Ships Online (DANFS)
NAVSOURCE Photo Archives
The Official Chronology of the U.S. Navy in World War II
U.S. Naval Historical Center (Now the Naval History and Heritage Command)
U.S. Naval Institute
United States Coast Guard
Naval Vessel Register
Hyper War, U.S. Navy in World War II, Ships of the U.S. Navy, 1940-1945
Dreadnoughts to Greyhounds: Ships of the US Navy
Destroyerhistory.org (Casco Bay)
U.S. Coast Guard Cutter List
Casco Bay Online, World War II, Joel W. Eastman
Eastern Sea Frontier War Diary
PUBLICATIONS
Jane's Fighting Ships of World War II, Crescent Books, 1992 Reprint
Conway's All the World's Fighting Ships, 1947-1982, Part I, US Naval Institute
U.S. Destroyers, Revised Edition, Friedman, US Naval Institute Press,2004
United States Navy Destroyers of World War II, Blandford Press, 1983
Allied Escort Ships of World War II, Elliot, Naval Institute Press, 1977
History of United States Naval Operations in World War II, Samuel Elliot Morison, Castle Books, 2001 Reprint
The Two Ocean War, Samuel Elliot Morison,1963
Tin Cans: The True Story of the Fighting Destroyers of World War II, Theodore Roscoe, US Naval Institute, 1953
The Defeat of the German U-Boats, Syrette, University of South Carolina Press, 1994
The Naval War Against Hitler, Donald Mcintyre, 1971
The Casco Bay Islands, 1850-2000, Kimberly E. MacIsaac, Arcadia Publications, 2004