Ditty Bag: Collections of the Naval Historical Foundation
An Artifact and Collections Blog Series
Ditty Bag: Convict Ship Success

In 2000, NHF received a very interesting package. The small box contained three postcards, three short letters, and a model of a ship carved out of a small piece of wood. Ms. Mary Ballard had left NHF these contents without much explanation.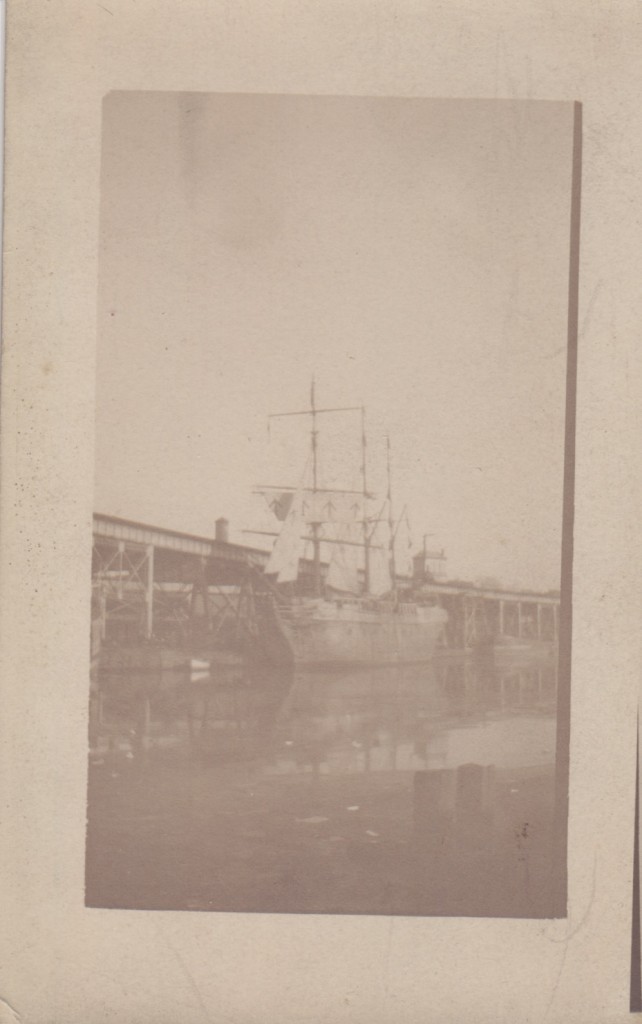 Two post cards display photographs of sailors and a ship. The third depicts a drawing of the Australian convict ship Success.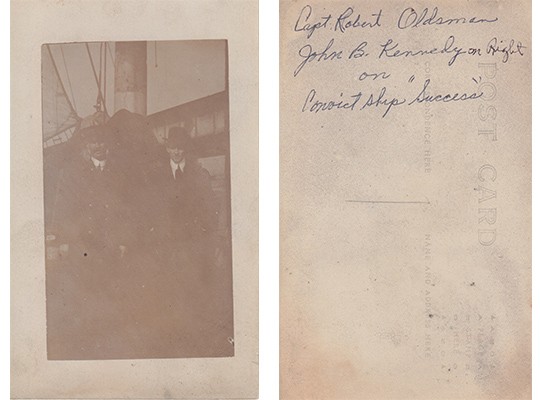 A letter penned by Ms. Ballard was sent to Jane's Fighting Ships, a small group of British open-source intelligence publisher Jane's Information Group. In her letter, Ms. Ballard describes the small carving as a piece of the ship's rail which her brother had carved into a likeness of Success. The postcards were sent to her father, John .B. Kennedy, c.1914.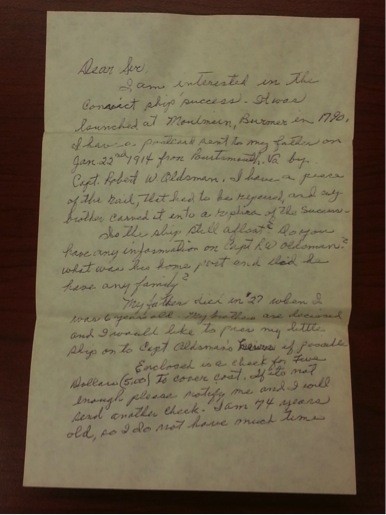 The small model is a bit of a mystery, and exhibits the enigmatic qualities of the ship it resembles. Many legends and myths arose around Success.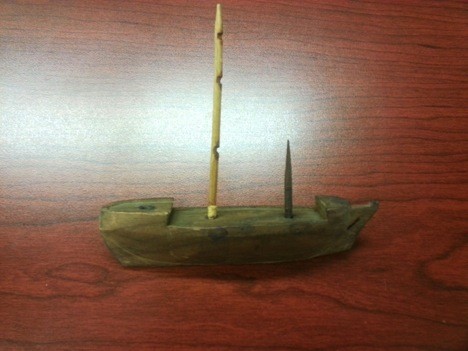 Despite what the postcard reads, Success was built in 1840, right at the end of the convict system. She was a merchant ship used primarily in the East Indies and never carried convicts. Success did not make it to Australia until c.1847.
In 1890 Success was sold to a group that retrofitted the vessel to appear as a convict ship, complete with balls and chains places strategically in what appears to be prisoner cells. Success toured around Australia, Europe, and the United States, even making an appearance at the 1933 Chicago World's Fair. There was a lot of literature perpetuating the myths of Success: her legendary convicts, notable cruelty of crew and prisoners alike. During World War II, Success was laid up in Lake Erie where she caught fire and sank.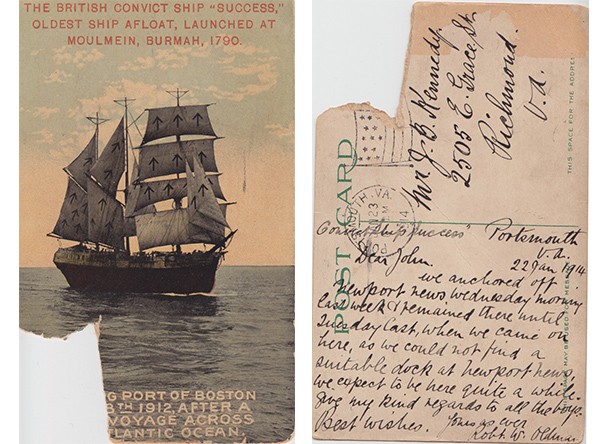 The postcard above reads:
Mr. J.B. Kennedy
2505 E. Grace St.
Richmond, V.A.
Convict Ship "Success"
Portsmouth VA
22 Jan. 1914
Dear John,
We anchored off Newport News Wednesday morning last week and remained there until Tuesday last, when we came on here, as we could not find a suitable dock at Newport News. we expect to be here quite a while. Give my kind regards to all the boys.
Best wishes,
Yours as ever
Robt. W. Oldsman.
Bibliography 
Bateson, Charles, The Convict Ships 1787-1868, Brown, Ferguson & Son, Glasgow, 1959.
The History of the Convict Ship Success, and Dramatic Story of Some of the Success Prisoners. A Vivid Fragment of Penal History. c1912. 150 pp.
The history of the British convict ship "Success" and its most notorious prisoners: compiled from governmental records and documents preserved in the British Museum and state departments in London. The darkest chapter of England's history. 1912. Published on board the convict ship "Success": [publisher not identified].
Radford, Neil. "The Convict Ship 'Success': A Very Successful Hoax." The Book Collectors Society of Australia. August 25, 2012. Accessed April 20, 2015.
"Shipwrecks and Maritime Tales of the Lake Erie Coastal Ohio Trail." Shipwrecks and Maritime Tales of the Lake Erie Coastal Ohio Trail. Accessed April 20, 2015.
"The SUCCESS – Convict Ship." Research- Naval Marine Archive. March 1, 2012. Accessed April 20, 2015.
Wardle, Arthur C., Official History of the "Convict" Ship, Sea Breezes magazine, Vol. 3 (New Series, 1947), p 73–74.
———————————–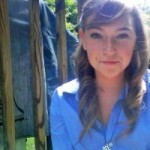 Ditty Bag: Collections of the Naval Historical Foundation is a new artifact blog written by Emily Pearce, NHF Middendorf Curator. She will periodically write posts about various artifacts and accessioned items in the Naval Historical Foundation collection and their impact on naval history. You can view all of the collections highlighted in Ditty Bag on our Flickr page HERE. To contact Emily or to inquire about NHF collections, please email Emily Pearce at [email protected].

For previous releases of Ditty Bag, Please go HERE.