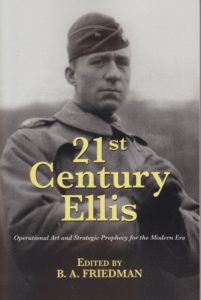 Edited By B.A. Friedman, Naval Institute Press. Annapolis, MD (2015)
Reviewed by Nathan Albright
As part of the Naval Institute Press' 21st Century series on notable naval thinkers, this book provides much of the body of work written by Marine Lieutenant Colonel "Pete" Ellis. Shortly after the Spanish-American War, Ellis enlisted with the Marines, and quickly rose through hard work and ambition from an enlisted private to a commissioned officer. With extensive experience as an adjunct for higher-ranking officers, he was eventually given a chance to study at the Naval War College. Later as an adjunct for the 4th Marine Brigade in World War I, he ran the brigade for its nominal commander. His postwar duty until his death was mostly overseas. His influential mentors included Marine Commandant William Biddle, his successor George Barnett, and noted Marine leader General John A. Lejeune. Despite his short life, his writings as a student in the Naval War College, as well as in in the Marine Corps Gazette, and his long essay Advanced Base Operations In Micronesia have been collected and lightly edited by B.A. Friedman in order to make them more accessible to contemporary readers.
This proves to be a short but essential work for those who are interested in the transition of Marines from snipers on-board naval ships to an amphibious assault force. As it happens, Ellis had experience in both aspects of the Marine mission. He gave insightful analysis about everything he witnessed, drawing parallels between the German prepared defenses in World War I and the sorts of defenses that could be made on various Pacific atolls, where the United States would defeat Japan in an island-hopping campaign. These insights turned Ellis into one of the 20th century's most spectacular prophets. Ellis' thinking was detailed enough that he was able to correctly predict the amount of Marines that it would take to seize a small island in the Pacific, an off-hand comment that betrays a mind of incredible depth and acuity.
In less than 150 pages, this book contains a biographical sketch of Ellis' life, a substantial portion of all he wrote that has remained, including many of his student papers at the Naval War College, and a comment on his legacy and contemporary importance. To his credit, Friedman does not whitewash Ellis. This selection includes some of Ellis' frankly racist comments about the Japanese and Pacific Islanders. Additionally, the book is blunt about Ellis' struggle with PTSD in the aftermath of the horrors of World War I and also his ultimately unsuccessful battle with alcoholism that ended in a suspicious alcohol-induced death in the Japanese ruled Pacific Islands mandate that would become the battleground he prepared the United States for through his skillful analysis. Recognizing these flaws, though, does not in any way diminish the almost inconceivable practical intellect that Ellis brought to the Marine Corps and its mission. Ellis' thoughts were wide-ranging and profound. Among his substantial achievements was the role he had in pointing the Marines towards developing unparalleled expertise in amphibious assault that would secure the survival and reputation of the Marine Corps during a time of transition. His observant eye and ability to synthesize his observations and experience and his ability to distill these thoughts into blunt, straightforward, and sound recommendations make him a continued guide for the conflicts and threats envisioned by contemporary military strategists.
Among the more striking aspects of Ellis' thought was his encyclopedic knowledge of the multifarious aspects of military experience. His grasp of strategy, operations, and tactics allowed him to carve out for the Marines a useful purpose and provide the blueprint for American victory against Japan. He pondered the placement and logistical requirements of bases, analyzed anti-guerrilla tactics not only for military effectiveness but also for the morale of American troops and the front of the hearts and minds of the local population. He examined the importance of diplomacy in dealing with coalitions and also challenges involving combined arms. He had a sophisticated understanding of human as well as geographical terrain and its influence on the conduct of warfare, and provided insights that would have greatly helped American conduct in Vietnam and Iraq, among other places. Although he was clearly a man of his time when it came to racial views, and his exasperated comments about American and local politics, as well as his conception of technology, his writing was clearly far beyond its time in terms of its thoughtfulness and its combination of a wide range of military factors subordinated to clearly defined mission objectives.
This volume should make the task of reading Ellis' profound strategic and operational thinking far easier for students and researchers of naval history and thought as well as intellectually inclined Marine and naval officers. In bringing the unjustly neglected writings of "Pete" Ellis in a single accessible and concise volume, Friedman makes Ellis' thinking come alive again to prove its worth in our contemporary geopolitical situation, especially in the Pacific. While the editor thoughtfully places Ellis in the context of thinkers such as Mahan, Corbett, and Clausewitz, his work should also serve to give Ellis his proper place as a notable military thinker. It is not unreasonable to expect that this book will help make Ellis a required reading for Marines wishing to gain a greater understanding of service history as well as operational thinking and behavior towards local inhabitants during military campaigns. The lessons provided in this book remain in use, and the book will be of interest far beyond the Marine Corps to the wider naval historical audience as a whole both for its historical and for its strategic value.


A frequent contributor to Naval History Book Reviews, Nathan Albright lives in Portland, Oregon.