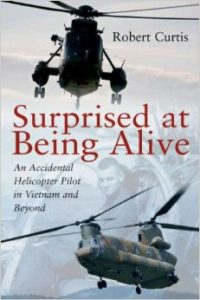 By Robert E. Curtis, Casemate Publishers, (2014)
Reviewed by Thomas Ostrom
In his 24 years in the service, Major Robert F. Curtis flew helicopters for the U.S. Army, Marine Corps, and Kentucky National Guard. Curtis flew in the United States, Britain (with the Royal Navy), Norway, and Vietnam from shore bases and the rolling decks of naval vessels.
Major Curtis did basic training at Ft. Polk, Louisiana. He was a Warrant Officer Candidate at Ft. Wolters, Texas in 1969 and later flew a CH-47C in Vietnam in 1971. His Vietnam missions included delivering fuel and water in hanging bladders beneath the helicopter to American camps, enduring battle damage to his helicopter windshield, carrying artillery ammunition to fortified bases, gunship patrols, and flying over a fire support base in northern South Vietnam in landing zones that had been cleared with napalm bombs.
Curtis flew wooden and steel bladed rotor-wing helicopters, including the OH-13E, Chinook, Sea King, Sea Knight, and other models. Curtis explained the complex technologies and skill involved in helicopter aviation, and attributed good training, professional colleagues (including mechanics), and "luck and superstition" that kept him alive. Fifty of his aviator colleagues died in accidents and combat. More than 40% of the U.S. helicopters sent to Vietnam met destruction in accidents and combat.
The author's time in Vietnam was action packed, flying over the DMZ, the Laotian border and Khe Sanh. During his time there, he heard NVA radar and radio signals, dodged enemy ordnance, and survived an enemy round through the helo windshield. Curtis also described the blood wounds he received when his Chinook and crew were shot down and the helicopter rescue that followed.
The danger of flying the aerodynamically complex helicopters in all kinds of rapid changing weather conditions and varied topographies required courage and skill. Curtis flew training, transportation, supply, and combat missions in climate regions from the Southeast Asian tropics to the storms, highlands, and ice of the Arctic.
Curtis exhibited drive, determination, eclectic interests and intelligence in life that included earning a BA degree from the University of Kentucky, Master's Degree from Webster University, and duty at the Naval Air Systems Command in Washington, D.C. Major Curtis completed his distinguished career with 23 Air Medals, a Bronze Star, Purple Heart, and Distinguished Flying Cross.
Because this reviewer has written books about United States Coast Guard missions in the Polar Arctic, Greenland, and on Bering Sea patrols during World War II, I was interested in his descriptions of the challenges then Captain Curtis faced in Arctic Norway in January-March of 1984-1985.
Curtis described his time as a U.S. exchange officer in Britain, flying on and off British ships in the North Sea, and the hazardous weather of northern Europe. The descriptions of aircraft icing, snow-blind flying, locating a ship landing deck in icy fog and snow, watching gauges and calculating fuel supplies, flying West into the prevailing Westerly winds over the North Sea in trips back to the United Kingdom, were frightening to read about, let alone experience. The author reminisced about his aviator colleagues who died in their helos in combat, bad weather, and accidents.
As a Washington bureaucrat, Curtis had occasion to visit the Vietnam Memorial in 1989. Curtis became emotional as he located the names of deceased colleagues. "My Vietnam War friends on the wall," Curtis concluded, "are still in their late teens, twenties…and thirties…and are still alive in my mind, just like they were in 1971."
In 1992, Major Curtis retired from the military, "…surprised to still be alive."

Thomas P. Ostrom, former member of the USCGR, and author of several USCG histories that include joint missions with the other U.S. Armed Forces.