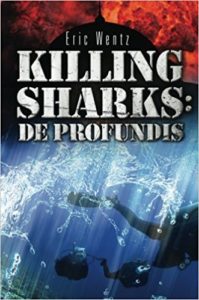 By Eric Wentz, Tate Publishing, Mustang, OK (2013)
Reviewed by Capt. Ralph L. DeFalco III, USN (Ret.)
A novel in the best tradition of the works of Frederick Forsyth and Dan Brown, Killing Sharks: De Profundis by Eric Wentz is a thriller that takes the reader from the desolate mountains of the FATA on the Afghan-Pakistani border to the warm waters of the Caribbean and the base prison at Guantanamo, Cuba.
Navy SEAL Lieutenant Commander Grant Chisolm races against the timing of suicide bombers and through the murky world of the modern war on terrorism and the backwaters of the Cold War. As the terror plot unfolds, Chisolm and his unlikely Cuban allies combine forces to thwart an audacious Al-Qaeda plan to attack the American base from the sea, air, and land.
The threads of this story tie into the headlines from today's news. The plot here takes its cues from the very real and determined jihadists bent on striking targets anywhere in the world.  The terrible resolve of these suicidal fanatics is played off against Chisolm's deliberate resolve.  It's an apt metaphor for the ongoing conflict between terrorism and the western world.  What makes it believable and also intriguing is that Wentz manages to cast his characters outside of the lines of heavy stereotypes.
The reader of Killing Sharks is in the good hands of a capable and knowledgeable author and a talented writer. Wentz's work is authentic. It's the product of Navy Officer who has seen Guantanamo and the world-wide war on terror at first hand. Wentz also has a solid grasp of history and of world cultures that resonates in this novel to add both depth and nuance to this adventure. Wentz has a gift for writing vividly and descriptively, and his narrative captures both beauty and the grimness of barbarous attacks, torture and sudden death.
On one level, Killing Sharks is a well-paced and satisfying adventure and thriller. Part detective story, part mystery, part history, the novel is a deft combination of genres laced tightly into a remarkable yet credible story line. Wentz has also layered this novel with carefully worked allusions and with subtle nuances that toy with the reader's imagination, warn of dangers seen and unseen that add luster to his story. It's no surprise then that the novel never really ends, but instead leaves off where it began by recounting a story known but not all told. The reader is not left hanging here but, rather, comes to an end knowing well that there is more to come.

Dr. Ralph L. DeFalco III is a career intelligence professional and a retired Navy Captain.  His essays, articles, and reviews have appeared in many publications and include topics in intelligence, military history, and national security and strategy.  He is a contributing author to the recently published two-volume work The Central Intelligence Agency: An Encyclopedia of Covert Ops, Intelligence Gathering, and Spies.