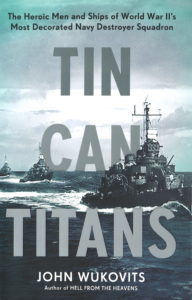 By John Wukovits, Da Capo Press, Boston, MA (2017)
Reviewed by Charles Bogart
The U.S. Navy's World War II operational history in the Pacific is the story of destroyers, Tin Cans, engaging Japanese surface ships, submarines, and airplanes. The author, within the pages of this book, allows the reader to become part of the ships and crews of Destroyer Squadron Twenty-One (DesRon 21) as they fight their way from Guadalcanal to Tokyo Bay. 
A World War II U.S. Navy DesRon consisted of eight destroyers. From 1942 to VJ Day, twelve destroyers served in DesRon 21 and were awarded a combined total of 118 battle stars, three Presidential Unit Citations, and one Navy Unit Commendation. DesRon 21 saw action from Guadalcanal to Okinawa and was involved in the naval battles of Guadalcanal, Tassafaronga, Kula Gulf, Kolombangara, Horaniu, and Vella Lavella. Its ships also saw action during the liberation of the Philippines and the Dutch East Indies, the capture of Iwo Jima and Okinawa, and the air attacks on the Japanese mainland. Three of the DesRon21 destroyers sank: DeHaven (DD 469), Strong (DD 467), and Chevalier (DD 451). There were also five seriously damaged: La Vallette (DD 448), Radford (DD 446), Fletcher (DD 445), Jenkins (DD 447), and Horworth (DD 592).  Of interest is the fact that La Vallette, Radford, and Jenkins were each rendered unfit for combat after striking a mine. It was three destroyers of DesRon 21 who had the honor of leading the American Fleet into Tokyo Bay on VJ Day: O'Bannon DD 450, Nicholas DD 449, and Taylor DD 468. Hopewell DD 681 missed this event, as she was undergoing overhaul at Guam on VJ Day.        
The author consulted wartime logs and various books written on the Pacific War to tell the story of DesRon21. He also examined various collections of naval papers, conducted oral interviews, and mined the internet for the human-interest stories that bring the ships and their crews alive.
The only negative factor about the book is the lack of maps and charts of various naval battles DesRon 21 was involved in. Except for two general maps of the Pacific Theater, there is no other visual reference within the book to orient one to the location of the action being described. Overall, the book is well-written and pulls the reader into the story told. It is interesting to follow the twists and turns of the war as the destroyers of DesRon 21 shift their focus from ship-to-ship action to defense against air attack. The book is a very nice companion to Theodore Roscoe's United States Destroyer Operations in World War II.
 

Charles H. Bogart is a frequent contributor for Naval History Book Reviews.