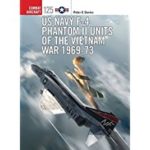 Davies, Peter E. US Navy F-4 Phantom II Units of the Vietnam War 1969-1973. Osprey Publishing, UK. 2018. 96 pages. Ill. $23.
Peter Davies has written many Osprey books, including quite a few dealing with the F-4 in Vietnam. This new book, no. 125 in Osprey's Combat Aircraft series, continuing the story from No. 116 that describes the F-4 and its crews in Vietnam from 1964 to 1968 (published in 2016), might be one of his best. Its appearance more than two years after the first volume, shows how much work is required to write these great little books,
Beginning with an excellent description of the early war years, Davies moves into the development of how U.S. Navy Phantom crews dealt with the North Vietnamese MiG force, a deceptively simple but complicated setup involving what were outdated but still potent MiG-17s paired with more sophisticated MiG-21s, especially the latest MF model, beginning to appear by 1972.
The details in this book are among the most technical I have seen when writing about the operation of the F-4's missile and radar systems and the complicated application of maneuvers and missile and radar capabilities when fighting MiGs during the war. This description gives new respect and understanding for the teamwork between pilot and radar intercept officer (RIO).
I have also never seen the highly complicated train of events of May 10, 1972, described in such detail. This is new history to be used as a reference by historians and enthusiasts alike.
Scottish artist Gareth Hector's usual stunning cover illustration was of particular interest to this reviewer as it shows the last MiG kill of the war when on January 12, 1973, a VF-161 Phantom crew shot down a MiG-17. The pilot of the F-4 was a fellow member of the Navy's Aviation Officer Candidate School Class's 10-68. Hector's piece almost puts the viewer right on Kovaleski's port wing, at about the high seven o'clock position.
Jim Laurier's traditionally fine profile work is also on full display with the folio of side drawings.
Peter Mersky is a former US Navy commander who was the assistant editor, then editor, of Approach, the Navy and Marine Corps aviation safety magazine, for 16 years, and he has also reviewed more than 400 books on military aviation. Peter has now retired from service and is a full time aviation writer.