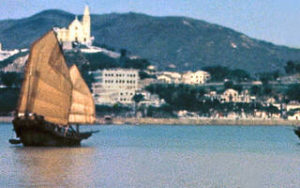 The Smithsonian Channel has produced another outstanding historical presentation.  The Pacific War in Color is a "must see" for those of us who are interested and involved in the naval history of World War ll in the Pacific Ocean theater.  Consisting of never seen before rare color movies of both the home and professional variety, the eight-episode series promises to offer some never seen movie footage and new insights into that great conflict in the Pacific theater.  Behind the scenes film offers differing views of life during war time.  Included are first-hand accounts from the men and women who lived it, taken primarily from oral histories compiled by The National Museum of the Pacific War in Fredericksburg, TX.  These oral comments add realism as the color films are being viewed.  From home front to battlefront, the eight episodes are sure to offer compelling viewing.
Episode One-An Ocean Apart
This segment opens with a look at a peaceful Pacific Ocean in 1937 from the first commercial air service across the Pacific– the Pan American clipper.  Hawaii, Midway Island, Wake Island, Guam, the Philippines and Japan, all future battle sites, display the peaceful contrast with future violent events at those locations.  An important point spotlights how unprepared for war the United States was compared to Japan—600,000 men under arms with antiquated weapons to 1.6 million well-armed Japanese.  Another significant point not found in most other documentaries is Japan's recognition of the need to acquire dependable raw material sources to feed its war machine, thus the need to acquire foreign locations rich in these materials.  The color footage in this and succeeding segments certainly adds new life and information to events viewed in previously widely circulated documentaries of the conflict in the Pacific theater.  Following scenes of the only known color footage of the surprise attack on Pearl Harbor, the episode concludes with color footage of Lieutenant Colonel Jimmy Doolittle's daring raid on the Japanese mainland with B-25s flying off the deck of the carrier USS Hornet.  This action provided a much-needed boost to American morale.  The viewer is left with the thought that even though the foes are oceans apart at this time, the young men involved will eventually have to fight face to face before the conflict's resolution.  The following seven episodes will gradually lead the viewer to the final resolution of this epic conflict.