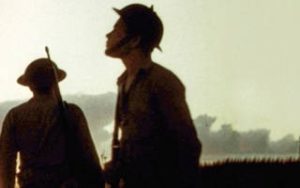 Episode Two-Shockwaves
The entire Pacific region is beginning to feel the effects of war.  While significant battles lie ahead, the color footage shot by amateur and military photographers in this episode focuses primarily on activities taking place behind the battle lines and paints a portrait of military life to show there is more to war than combat.  The dialogue is expertly blended with the color movies and provides real insight to what transpired in the long periods between and during major military engagements.  Combat footage is secondary in this episode.
The movie camera shows the faces of military recruits revealing the uncertainty of what lies ahead as they are shipped out to unfamiliar and unknown destinations.  One of the destinations is New Guinea where unique camera images show primitive tribesmen, who have never seen a camera, cooperating with the allies.  Local cooperation and its benefit to the allies is an important theme.
The movies show in detail culture clashes taking place in Australia as the American troops pour in to reinforce the war effort.  Fights over local women figure prominently, with the Americans being described as "overpaid, oversexed and over here."  This was similar to what happened in England when the American troops staged there.  The camera graphically illustrates the Aussie problem by showing innovative scenes of "nose art," color images of scantily clad women painted on the fuselages of the long-range bombers stationed in Australia.
Behind the battle lines the camera lens shows the desperate fight the troops faced against the many tropical diseases prevalent on Guadalcanal which resulted in critical manpower shortages.  Home movie footage shows bucolic scenes of New Zealand where many of the troops were sent to recuperate.
The camera focuses on the effects of martial law in Hawaii on its inhabitants, 1/3 of whom are of Japanese descent.  Its film then moves to the mainland where home movies show the undisturbed life of Japanese immigrants before the war and the subsequent forced movement to internment camps after Pearl Harbor where they were a subject of curiosity and acceptance. As a five-year old boy, I observed those facilities in the southern California desert, and the camera is not lying.
The battles of the Coral Sea, Midway Island, and the Aleutian Islands receive adequate attention with combat footage like that of previously produced and extensively distributed combat documentaries. Military activities in Burma are the subject of some fascinating film footage and the country is described as hosting "…the secret war fought in the shadows."
Episode Two concludes with the cameras following first lady Eleanor Roosevelt as she tours some of the secured South Pacific battlefields in an effort to boost the morale of the allied troops.  The Pacific is no longer a sideshow to the war in Europe.