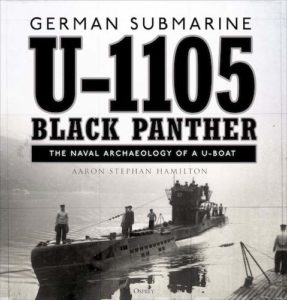 Aaron S. Hamilton earned a Bachelor's and Master's degree in History in 1995 at Old Dominion University in Norfolk, Virginia and calls himself an avocational historian and amateur maritime archaeologist. Hamilton has spent more than twenty years working with primary source documents related to the last year of World War II. His thesis was on the Wehrmacht in Western Europe during the last years of the war, but he also became aware of the U-1105 at that time. During the past five years he has undertaken new archival research into the wartime technical and tactical innovations of German submarines. His previously published military titles reflect his Master's research and subsequent studies as A. Stephan Hamilton were all issued by the same publisher, Solihul, West Midlands, England, Helion & Company Ltd.  These include Bloody Streets: The Soviet Assault on Berlin (2008, a new, expanded edition is due in 2020); The Oder Front 1945 series Volume 1: General Gotthard Heinrici, Heeresgruppe Weichsel and Germany's final defense in the East, 20 March-4 May 1945 (2010), Volume 2: Documents, Reports, and Personal Accounts (2014), and Volume 2.2, Map Book (2014); and Panzergrenadiers to the Front!: The Combat History of Panzergrenadier-Division 'Brandenburg' on the Eastern Front, 1944-45 (2016). Hamilton's biography indicates that he is "Field Historian designator awarded by the U.S. Army's Combat Studies Institute" and the book's "Introduction" indicates his residency is in Fairfax, Virginia in 2018.
SIDEBAR: The Army War College Combat Studies Institute (CSI) is charged with improving the quality of the instruction of military history and provides a wide range of military historical and educational support to the Combined Arms Center, Training and Doctrine Command, and the United States Army. It has a publication series offers Fellowships to encourage and support dissertations in military history by graduate students. Official website usacac.army.mil/cac2/csi/directorscorner.asp wikisite en.wikipedia.org/wiki/United_States_Army_Center_of_Military_History cgsc.contentdm.oclc.org/cdm/landingpage/collection/p16040coll3
The book is highly illustrated (48 historic monochrome illustrations, one drawing, and 36 color pictures) and includes many new and previously unpublished images that assist in divulging a more complete story of this unusual and remarkable World War II U-boat. Hamilton evaluates the effectiveness of its three innovative technologies late in the war, documents its extensive postwar testing by the Royal Navy and US Navy, and details the features still present on the submerged wreck in the Potomac River today. The book's dedication reads: "For US Navy Capt Hubert "Hugh" Murphy (1917-2013) … and the US and Royal Navy prize crew of the German U-1105 "Black Panther." They braved the North Atlantic winter storms of 1945-46 to bring this unique U-boat to the USA without ever knowing the reason why." Figure 1 on the obverse of the title page is an image of the original "Black Panther" conning tower emblem handmade by a crewmember and a caption that explains the Schwarzer Panther: a shield with a globe of the world showing the Atlantic Ocean with a black panther reposing on the top of the globe. U-1105 was covered in black rubber, the Alberich coating (other U-boats were gray), the captain's name was Schwartz, and a catchy jazz tune of the era was titled "Black Panther." A name, an emblem, and a theme song a former crewmember recalled.
The "Foreword" (pp 6-7) is by Dr. Innes McCarthy, a naval archaeologist at Bournemouth University, UK, who comments that there is a great deal of information in this book that is new to him. In the "Preface" (pp. 8-9), Hamilton states that he has spent six years working on this book, that there are limited public records on U-1105, that there has been no individual work of history on this boat, and that the few published and online are frequently incomplete or inaccurate. The primary sources of information are the Naval Historical Center (now the Naval History and Heritage Command) and the private U-boat Archive in Cuxhaven-Altenbruch, Germany. Hamilton is absolutely correct in making these statements about the paucity of documents and veracity. His stated goal is to detail the three transformative late war technologies that make U-1105 unique, notably it was the only U-boat to conduct a wartime patrol while equipped with the recently invented revolutionary device: 1) the snorkel (Schnorchel), enabling the submarine to stay submerged almost indefinitely and to recharge its batteries while running just below the surface. 2) The advanced GHG Balkon passive sonar array that significantly improved its underwater navigation and detection capability, a critical feature since U-boats could remain almost entirely underwater during their patrols. And 3) a specialized rubber coating codenamed Alberich (after a sorcerer from Norse mythology) designed to reduce the submarine's acoustic signature while running submerged. U-1105 employed these innovative technologies effectively, along with new shallow water tactics prescribed by U-boat Command.
The "Acknowledgments" (pp. 10-11) are to the Maryland Historical Trust, British National Archives, the U-boat Archiv in Cuxhaven-Altenbruch, and Janet Murphy whose father, Hubert "Hugh" Murphy, had kept important documents and photos about the U-1105s crossing of the Atlantic in 1945. The "Introduction" (pp. 12-15) provides information about Hamilton's academic background, his first dive on the U-boat in October 2013, and a synopsis of the book's contents. Some of the highlights include that the snorkel "took center stage" as this allowed U-1105 to be a true submarine on operational patrols, that the subsequent Royal Navy testing of this U-boat was more than on any other surrendered submarine, that the U-1105 was a war prize sought by the Russians, that the vessel crossed the North Atlantic in the winter under its own power, and that, allocated to the US Navy, it was sunk testing explosives. German Submarine U-1105 "Black Panther" has 103 scholarly "Endnotes" (pp.132-134) which indicate his researches were undertaken in the United States, Great Britain, and Germany and include citations to archives, correspondence, and films.  The three-column "Index" (pp. 135-136) includes both proper nouns and topics. The illustrated narrative encompasses nine chapters and three appendices.
"Chapter 1: Late War-Technical and Tactical Evolution" (pp. 16-33, figures 2-12). World War II U-boats spent a majority of time operating surfaced since these vessels were submersibles rather than submarines and were powered by diesel engines, hence, very slow underwater. Hamilton describes Black May 1943 and Allied technological advances in radar and Ultra. The Schnorchel was invented by Dr. Hellmuth Walter and was an evolutionary next step transforming submersibles into submarines.  Meticulous drawings and images accompany the explanation of how it functioned, the ball-float mechanism, testing in 1943-1944, the carbon monoxide problem, and diesel engine exhaust systems. By the fall of 1944 snorkel-equipped U-boats could stay submerged up to 60 days. Bottoming to avoid depth charge and hedgehog attacks had been the usual tactic but now U-boats could avoid Allied sonar searches by remaining in shallow water (30-35 m/100-200 ft.). The Alberich 2-ply rubber coating had different size holes on the hull patterned for different parts of the boat to deal with variations in pressure, depths, and temperatures and serves as an effective acoustic camouflage but was hampered by a suitable adhesive coating to attach the rubber sheets (figures 9-11). Hamilton's research indicates that no U-boat with the coating was ever identified by ASDIC or sunk by a surface vessel although only 4 of 13 boats went on operational patrols. The GHG Balcon equipment [Balkongerät]  was an advanced version – Gruppenhorchgeräte (GHG), a passive sonar array of listening equipment for depths below 65 ft. but, according to Hamilton, only 22 boats were so equipped; other sources say ten Type VIIC boats were equipped. It increased the interception range by 70% but there was a blind spot between 150 and 220°. Hamilton also reports that the antiradar coatings and snorkel were more successful than anyone in the Kriegsmarine had believed.
"Chapter 2: Construction and Training" (pp. 34-45, figures 13-14). U-1105 a Type VIIC U-boat was ordered on 14 October 1941 and built at Nordseewerke in Emden, laid down on 6 July 1943, launched on 20 April 1944, and commissioned on 3 June 1944. Hamilton traces a perpetuated error concerning the boat's type to Günter Hessler's The U-boat in the Atlantic 1939-1945, London: Ministry of Defence, HMSO, Section 48-49, p. 27, 1992.  See Hamilton's p. 34-35 and endnote 15, p. 133 which provide a full explanation of the origin of this mistake. U-1105 was, indeed, a Type VIIC boat and not a VIIC/41 – a wonderful piece of sleuthing [at the end of this review, I'll list some of the erroneous VIIC/41designations still on the Internet]. Some details are provided on the armament and additional information on the Alberich coating, GHG Balcon, and flash and radio transmission equipment (detailed in Appendix A). The discussion on the U-boat's design does not include much information on the propulsion system of two four-stroke, six cylinder supercharged diesel engines and the electric motors, or its five torpedo tubes (four in the bow and one in the stern). The commander, Klt Hans-Joachim Schwarz, is profiled and Hamilton includes copies of his messages to the crew at the commissioning ceremony; the crew is listed in Appendix B. Trials testing the snorkel and other equipment involved various trips from Kiel to almost a dozen locations: Danzig, Pillau, Hela, Danzig, Bornholm, Hela, Wilhelmshaven, Brunsbütel, Kiel, and Horten on the Oslo fiord in Norway (Appendix C documents the specific tests). U-1105 was then ready for its first and only combat patrol on 12 April 1945. "Chapter 3: First and Last Wartime Patrol" (pp. 46-61, figures 15-21). The U-1105s assignment was to operate independently off the west coast of Ireland and she cruised almost exclusively underwater to the Orkney-Shetland Islands area arriving 23 April. Most of her activities during this period and until the end of the war are also documented by Ultra intercepts. On 27 April, off the northwest coast of Ireland, U-1105 fired two acoustic torpedoes at HMS Redmill, an escort destroyer on duty with the 21st Escort Group; a T5 struck Redmill's stern but the second, a LUT, likely missed. The Allies were using sonobuoys at this time and expended 299 depth charges on the contact while the boat bottomed at 175 m / 564 ft. and remained there for 31 hours.  Poor weather and the rescue of the fatally damaged Redmill, which lost 32 crewmen, curtailed further searching; the destroyer was towed to port, declared a total loss, and later scrapped. There is a detailed analysis with a chart and attack schematic of the tactical engagement. Afterward, U-1105 signaled her position and cruised on the surface, receiving news of the end of hostilities on 4 May from Großadmiral Dönitz. Her war diary and other papers were destroyed before surrender on 10 May at Loch Eriboll, Scotland joining seven other surrendered U-boats; most of all these boats' crews were transferred to transport hips and sailed to Loch Alsh. Nothing is said about her Enigma equipment and U-1105 was re-designated as the Royal Navy submarine N-16.    
"Chapter 4: Postwar Evaluation and Testing by the Royal Navy" (pp. 62-79, figures 22-37). U-1105 was one of 125 U-boats surrendered or abandon at the end of the war. The British made a unilateral decision to subject a few boats to extensive tests: Electro-boats Types XXI, XXIII, and a priority for Type VIIC.  Two Type VIIC boats were selected: U-1105 with the Alberich coating and U-1171 without.  The tests included antisubmarine trials for14-15 days: maneuvering and noise, sonar, radar, and snorkel tests. Some technical and diving tests required the assistance of German crewmembers and assistance in moving the boat to Holy Loch and then Holyhead. Alberich sheets were removed from U-485 for testing. Reports on the status of U-1105 were prepared by 4 September 1945 (p. 71) and the Admiralty received inquiries about her from the US Navy. An Allies' conference at Potsdam led to an inspection of U-1105 by the British, Americans, and Soviets, peaking the latter's interest in the Alberich coating. The British continued their testing and determined the need for repairs on the engines, exhaust, and mufflers but U-1105 was ready to sail to the United States through calmer southerly North Atlantic waters by 12 December. "Chapter 5: North Atlantic Transit to the USA" (pp. 80-89, figure 38). The US Navy Technical Mission in Europe reached the German submarine production facilities in the Baltic area in May 1945 and sent an extensive list of materials and specimens used in the acoustical camouflage to the Bureau of Ships while rubber sheets, cutting tools, and adhesives went to the Naval Research Lab which issued a report in September. The Americans also had access to copies of all of the British test results. Details about these items sent for analysis are listed in the chapter.  It appears that this combination of materials and tests determined that U-1105 should be transferred to the United States to keep the vessel out of Soviet hands; Hamilton reports that the author of this report and decision remains a mystery. A US Navy crew under LCDR Hubert "Hugh" Murphy, a Pacific submarine commander and the only bachelor skipper available was selected and sent to Britain. They conducted an inspection 6-7 December followed by familiarization cruises and sailed U-1105 from Portsmouth, England to Portsmouth, New Hampshire 19 December 1945-2 January 1946. The prize crew included John Woodward, a British sailor (3rd Class ERA), and William Ferguson, an American sailor, both of whom provided recollections of the voyage for Hamilton's  research; in addition, Murphy's papers and photos were invaluable resources for the content of this chapter.
"Chapter 6: Salvage Training and Depth Charge Testing in the Potomac River" (pp.90-101, figures 39-56). U-1105 was transferred to Boston and berthed at Hingham Shipyard next to the infamous U-505 captured by the US Navy and currently displayed in Chicago's Museum of Science and Industry. U-1105 Alberich specimens were tested at the MIT Acoustics Lab and some parts were taken to repair U-2513 then in US Navy service.  In January 1947, the "Black Panther" was moved to the US Naval Mine Warfare Test Station at Solomons, MD, then to the Naval Gun Factory in Washington, DC, where she remained for 18 months. In August 1948 she was towed to Piney Point, MD as part of the final testing plan using depth charges and underwent six separate sinking's and five recoveries, the former on 17-18 and 30 August and 29 September 1948; and 1 and 15 August and 19 September 1949. "Chapter 7: Forgotten but Never Lost" (pp. 102-105, figures 57-61). The wreck site at Piney Point is marked on NOAA Nautical Chart 12285 (October 1949) but its final position was mismarked because of a clerical transcription error (67° W instead of 76° W)! Renewed interest in U-1105 in the 1990s led to the State of Maryland making the boat part of a Marine Preserve based on an initial survey in 1994. The "U-1105 Black Panther (Maryland Archaeological Survey # 18ST636)" entry in Atlas of Marine Protection states that the survey was in 1992-93: www.mpatlas.org/mpa/sites/8258/; see also the State of Maryland's U-1105 Shipwreck Preserve www.mpatlas.org/mpa/sites/8258/. The site is maintained for the Maryland Historical Trust by the Institute of Maritime History and in 2001 was placed on the National Register of Historic Places, but U-1105 itself remains the property of the US Navy. The 1994 report summary indicates that U-1105 "represents one of the earliest efforts of modern stealth technology to be fielded in wartime" (pp. 103-104); only one other Type VIIC boat is preserved in Kiel, Germany.  Lastly, Hamilton argues that "U-1105 should be raised and restored as an example of the transition from the prewar submersible to the modern submarine" (p. 105). "Chapter 8: Diving the U-1105 Today" (pp. 106-108, figures 62-64). The author reports from personal experience that the dive isn't difficult (20 m / 65 ft.) but the water is brackish with poor visibility and the boat is now heavily silted. "Chapter 9: Archeology of a Late War U-boat" (pp. 109-125, figures 63-64; one drawing and 36 color images). This chapter is devoted primarily to images which provide a guide to what remains of the snorkel, the most sought after and copied U-boat technological innovation of the postwar period. The Alberich patterns, which differed according to their location on the boat, were adopted by the Soviets in the early 1990s as postwar stealth technology. The US Navy did not employ acoustic tiles until the 1980s. Hamilton's book concludes with three important appendices: Appendix A: Technical Specifications" (pp. 126-127, 1 figure) focusing on radio and sonar equipment; "Appendix B: The Crew" (p. 128, 1 figure) listing the names and ranks of 52 men; and "Appendix C: Chronological History of U-1105" (pp. 129-131) spanning the period 1943 to 1995.
This well-written, detailed, and well-documented book is certainly a benchmark for future research on U-boats or other submarines, and other maritime vessels. It has the best collected documentation of the three innovative technologies: the snorkel (Schnorchel), the advanced GHG Balkon passive sonar array, and the remarkable specialized rubber coating designated Alberich – the earliest stealth technology. It would be quite interesting to learn how the Soviets were able to adapt the latter for their own submarines by the 1950s and why the United States lagged behind. Hamilton had done a great service to maritime history by preparing this splendid volume. It was a delight to review.
---
The US Naval History and Heritage Command correctly designate U-1105 as a Type VIIC boat: www.history.navy.mil/research/underwater-archaeology/sites-and-projects/ship-wrecksites/u-1105.html. However, U-boat Net  uboat.net/boats/u1105.htm  incorrectly characterizes U-1105 as a Type VIIC/41; likewise, Wikipedia titles their entry "German Submarine U-1105" as a Type VIIC/41 boat en.wikipedia.org/wiki/German_submarine_U-1105. Hamilton has also written a very interesting article titled "Carbon Monoxide Poisoning and the forgotten Exhaust Shutoff Valve on the Type VIIC" undated but posted in Deutsches U-Boot Museum dubm.de/en/carbon-monoxide-poisoning-and-the-forgotten-exhaust-shutoff-valve-on-the-type-viic/ in which there is a mention of the book under review here and a planned subsequent book, Total Undersea War: The Evolutionary Role of the Snorkel in Dönitz's U-Boat Fleet, 1944-1945. He notes that each diesel U-boat type required a slightly different snorkel configuration although the main characteristics were similar. Hamilton also refers to a National Archives and Records Administration US Naval Technical Mission Europe, Technical Report 517-45, "The German Schnorchel", 27 October 1945. In Osprey Publishing's blog, ospreypublishing.com/blog/German_submarine_U1105_Black_Panther/ (from Military History June 26, 2019), Hamilton discusses U-995, a Type VIIC/41 "sister boat," which during the postwar period had served with the Norwegian Navy, and is currently on display in Laboe, Germany. This boat was equipped with an improved Type II snorkel installation before the end of the war that included a starboard-side exhaust trunking. When she was converted into a museum display, many of its major late-war features were removed, such as the starboard side snorkel trunking, thereby providing an inaccurate portrayal of a late-war snorkel-equipped U-boat; see an image of this boat today: www.flickr.com/photos/rinkratz/3799386672.
Lastly, for divers and everyone else, there are three fairly recent moving image contributions featuring U-1105 posted on YouTube:  Toti, William (2009) German U-boat U-1105 "Panther" Dive, Institute of Maritime History, Underwater Survey of the German Submarine U-1105, Potomac River, YouTube 21:15, August 30, 2009,  www.youtube.com/watch?v=5Bd4OcWl1OI; Sea Ventures, Fairfax, VA (2010) Diving the U-1105, Piney Point, MD, YouTube 9:56, September 10, 2010, www.youtube.com/watch?v=epmGV_nO2dE; and Southern Maryland Divers (2014) U-1105 Black Panther Dive, YouTube, 7:38, September 20, 2014, www.youtube.com/watch?v=XXXH2Rt4PvM
---
German Submarine U-1105 "Black Panther": The Naval Archaeology of a U-boat
By Aaron Stephan Hamilton, Osprey Publishing, Oxford and New York, (2019).
Reviewed by Charles C. Kolb. Kolb is a Golden Life Member at the US Naval Institute, an independent scholar, and "accidental archaeologist." He is the Associate Editor for Archaeological Ceramics at the Society for Archaeological Sciences and served as senior program officer at the National Endowment for the Humanities for 24 years.
Click here to buy German Submarine U-1105 "Black Panther": The Naval Archaeology of a U-boat now!