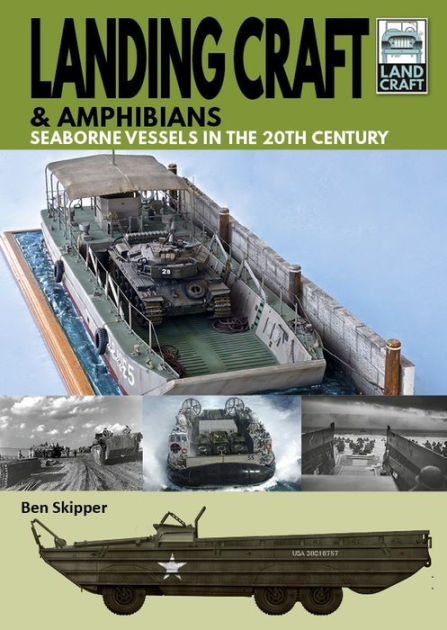 Reviewed by Jeff Schultz
Ben Skipper's Landing Craft & Amphibians: Seaborne Vessels in the 20th Century briefly delves into the interesting world of landing craft and amphibians involved in various conflicts in the 20th century from World War II to the present. While it is not authoritative, it does detail many such craft with useful sections for modelers.
Skipper is an RAF veteran and freelance writer with several "Pen and Sword" titles to his credit such as The Battles of El Alamein in the "BattleCraft" series and several others in the "LandCraft" series about the Land Rover, Humvee and M113 Armored Personnel Carrier. This 64-page A4 format monograph is divided into several sections, well-supported by many photos, and a selection of color plates.
Skipper focuses on a range of both vessels and amphibians which saw action in everything from small to massive amphibious landings from World War II to Vietnam and even up to the present. The work is divided into the following sections: "Introduction," "Design & Development," "Landing Craft Variants," "Landing Craft in Detail," "In Service & In Action," "Camouflage & Markings," "Model Showcase" and lastly, "Modelling Products."
"Design & Development" dominates as the longest section, offering sub-sections on "Allied Landing Craft," "Axis Landing Craft," "Amphibians," "Post-war Developments" and finally "Post-war Amphibians." Among those sections a wide range of craft are profiled, including a nice selection of more modern types such as the Landing Craft, Air Cushion (LCAC), the Russian "Zubr" LCAC, the Alvis Stalwart, the Landing Vehicle Tracked, Personnel 7 (LVTP-7), and the Russian BTR and BMP series.While the clear focus is on American and British craft, he provides a decent overview of Axis landing craft, including the little-known Kriegsmarine "naval ferry barge" or Marinefährprahm (MFP) which served on all fronts with the Wehrmacht along with Siebel ferries and other such craft.
In the "Landing Craft Variants" section Skipper discusses important variants, such as those based on the Landing Craft Tank (LCT) such as the Landing Craft Tank (Rocket) (LCT(R)) which afforded rocket support to beach landings using over a thousand 60lb. rocket rails providing immense bombardment firepower, the Landing Craft Flak (LCF) which provided anti-aircraft support using 20mm Oerlikons and QF 2pdr "pom-poms" weapons manned by Royal Marines and finally the Landing Craft Gun (LCG) which were LCT conversions mounting either 25-pdr howitzers or 4.7cm naval guns.
"Landing Craft in Detail" offers various color photographs with an eye towards helping modelers produce realistic looking miniature versions, examples include the German Schwimmwagen, a Ford GPA, Ukrainian LCU, DUKW, LVT-4 and a LARC-LX.
"In Service & In Action" provides a brief glance at the progression of the landing craft and amphibians from their early WWII start all the way to the present with a sense of the growing numbers and complexity of the available craft and how their relative specializations have continued to grow. Instead of being replaced, the landing craft and amphibian have remained a vital part of the modern force structure. Although the names and craft may have changed, the missions remain.
"Camouflage & Markings" provides lavish color plates, with multi-views of the following: DUKW in D-Day markings from the First US Engineer Brigade, a German Rheinmetall-Borsig Landwasserschlepper (LWS) from the Baltic Coast in 1944, a USN LCM-6 from 1960, a USN Landing Craft Personal (Large) (LCP(L)) from the 1942 Guadalcanal campaign, USN Landing Craft Vehicle Personnel (LCVP) PA 13-22 from D-Day 1944, USN Landing Craft Tank Mk 6 (LCT) from 1943, a 2d Marine Division Landing Vehicle Tracked 4 (LVT-4) from the Tinian landings in July 1944 and lastly an Italian Regia Marina Motolance from 1942.
"Model Showcase" features several 1/35 scale plastic models with multiple color photos of craft Skipper already discussed, now in arresting detail from multiple angles. First, a Landing Craft, Mechanized (LCM) 3 depicted as taking part in the Rhine crossings during spring 1945, then a Landing Vehicle, Tracked (LVT) 4 used in the November 1944 Walcheren Island landings by the British 79th Armored Division, followed by a Landing Craft, Mechanized (LCM) 8 as used by the Royal Australian Corps of Transport (RACT) during the mid-Vietnam era and finally a Ford GPA "Seep" used by the US First Infantry Division in Tunisia circa March 1943.
"Modelling Products," the last section, details the range of model kits and accessories available related to landing craft and amphibians. Plastic model companies such as Italeri, Airfix, Trumpeter, Tamiya and others are listed with their particular products and in some cases accessories offered which includes figures, equipment, etc. Examples include anything from an Italeri LAV-25 to a Trumpeter BMD-3 or even an Airfix Higgins LCVP for those interested.
Ben Skipper's Landing Craft & Amphibians: Seaborne Vessels in the 20th Century provides a nice mix of supporting text and images which overview the landing craft mostly used by the Allied nations in World War II and beyond, with a brief mention of non-Allied designs. It is meant as an introductory, visual heavy work to spawn interest and in that way, it succeeds, as well as providing photographs and other information relevant to modelers who might want to build a diorama or vessel for display.
---
Jeff Schultz is an Associate Professor of History at Luzerne County Community College.
Landing Craft & Amphibians: Seaborne Vessels in the 20th Century. By Ben Skipper (Barnsley, UK: Pen and Sword Military, 2002.